Several Red Sox getting their first October taste
Several Red Sox getting their first October taste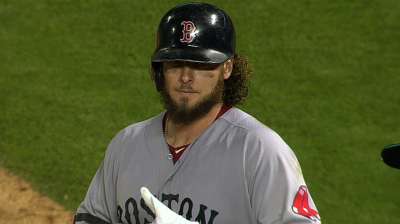 BOSTON -- Of the 25 players on the Red Sox's American League Division Series roster, there are nine who have never participated in the postseason.
Those players will take on various levels of importance.
Jarrod Saltalamacchia is the starting catcher and a key piece to what the Red Sox have done this season. Will Middlebrooks is the starting third baseman. Craig Breslow is the team's top lefty reliever. Daniel Nava was out of the lineup for Game 1, but he should start in left field against all righties in this series. Mike Carp has been an invaluable reserve.
Felix Doubront was a key piece to the rotation all season, but he is now moving to the bullpen. Xander Bogaerts is the team's top prospect and should see action, be it as a pinch-hitter or in spot starts at short or third. Junichi Tazawa has been a key setup man, though he's been somewhat inconsistent down the stretch.
Brandon Workman was called up from the Minors earlier this season and has gotten some key outs as a reliever.
Though the only way to know how a player will handle postseason experience is to see him go through it, the Red Sox have several veterans who have been passing down simple words of wisdom to the players going through this for the first time.
What does David Ortiz -- owner of two World Series rings -- tell those teammates?
"Not to overdo things. Stick with your game and don't let the pressure take over," said Ortiz. "We talk about it every day. They always have questions for me, being around longer, and I'll answer it for them. But the main key is just to keep on playing your game and don't try to overdo things. Take it step by step."
Ian Browne is a reporter for MLB.com. Read his blog, Brownie Points, and follow him on Twitter @IanMBrowne. This story was not subject to the approval of Major League Baseball or its clubs.