Extra days off benefited Victorino most
Extra days off benefited Victorino most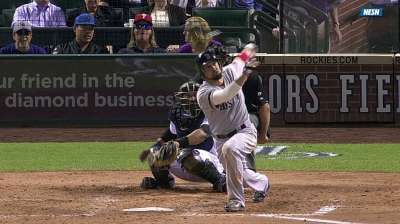 BOSTON -- Though the four-day break was helpful to several Red Sox players who have been dealing with bumps and bruises, right fielder Shane Victorino is probably the person who benefited the most.
All season long, Victorino has been dealing with nagging injuries, be it his back, hip, quad, or, most recently, his right thumb.
Victorino was in his customary No. 2 spot in manager John Farrell's lineup for Friday's Game 1 against the Rays.
"Letting that hand issue kind of calm down a little bit [has been important]," said Farrell. "The work he has done over the last four days, in addition to the rest, swinging the bat, he doesn't feel any symptoms in that anymore. That's been a plus."
Though it won't come into play much in the first two games, when the Red Sox face lefty starters, it will be interesting to see if Victorino reverts back to switch-hitting when the Rays have a righty.
Starting in early August, Victorino has batted almost exclusively right-handed, thanks to weakness in his left hamstring.
"We'll see," said Farrell. "He's felt so comfortable [from the right side]. I think he has one at-bat of late from the left side."
Ian Browne is a reporter for MLB.com. Read his blog, Brownie Points, and follow him on Twitter @IanMBrowne. This story was not subject to the approval of Major League Baseball or its clubs.