Young coming through when it counts most
Young coming through when it counts most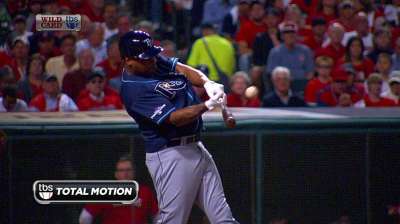 BOSTON -- Delmon Young led off the third inning of Wednesday's Wild Card Game in Cleveland with a home run to give the Rays a one-run lead. It was Young's ninth career postseason homer, all coming since 2011 -- tops in the Major Leagues over that span.
According to the Elias Sports Bureau, five of those nine home runs have been go-ahead shots, two more than anybody during that span. To put that in perspective, in the regular season since 2011, Young has only six go-ahead homers, and 116 players have more homers overall.
According to Baseball-Reference.com, only 10 players in postseason history have hit more go-ahead homers than Young.
"I think he's done a really good job, just seeing him from afar before, people think he's aggressive, but he does a good job staying in his hitting zones," hitting coach Derek Shelton said. "And he has a really good idea of how at-bats work and how counts work. He's a young guy, but he's a veteran guy. I've been really impressed how he controls at-bats."
Shelton added that the Rays were lucky to pick him up in August.
"Especially because this is a guy who is proven in the postseason," he said. "This is a guy who was the MVP of the ALCS last year. So any time you can pick up a proven guy who has played in games like this, it's huge.
"We've been left-handed dominant a little bit. So any time we can get more right-handed or a right-handed power bat, it makes it better."
Bill Chastain and Adam Berry are reporters for MLB.com. This story was not subject to the approval of Major League Baseball or its clubs.