NLDS even as Lynn labors in Game 2 defeat
NLDS even as Lynn labors in Game 2 defeat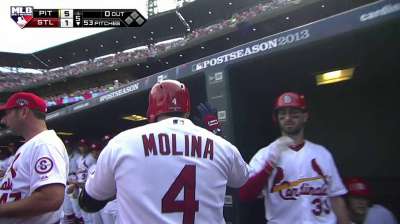 ST. LOUIS -- With everyone fresh and fully rested, manager Mike Matheny could have turned any number of ways as he lined up a starter for Game 2 on Friday. He eventually settled on Lance Lynn, believing that Lynn's recent resurgence should outweigh previous postseason woes and second-half troubles against the Pirates.
It was a gamble that Lynn could not reward.
Giving up more runs (five) in 4 1/3 innings than he had in his last four regular-season starts combined, Lynn and some suspect defense played around him sunk the Cardinals' chances of taking a commanding lead in the National League Division Series at Busch Stadium. Instead, Friday's 7-1 loss essentially turns this intradivisional matchup into a best-of-three series.
"We're battle-tested," second baseman Matt Carpenter said. "We've got guys in here who know what it takes to play in these big games, and what's at stake. I feel good about where we're at. Obviously, we'd have liked to have won today, but we're going to come out Sunday ready to go."
The road gets tougher, though, now that the Cardinals have lost their grip on home-field advantage. Francisco Liriano, who limited St. Louis to two runs in 24 innings this season, awaits the Cards next as the series relocates to Pittsburgh (Sunday at 3:30 p.m. CT on TBS).
"You know it's going to go down to the wire, I think a lot of people expect that," third baseman David Freese said. "That place is going to be rocking, but we're going to be ready."
Pirates rookie starter Gerrit Cole was a similar sort of dominant on Friday. Showing no signs of being overwhelmed in his postseason debut, Cole cruised against a Cardinals offense that had scored nine times less than 24 hours earlier. Yadier Molina's fifth-inning homer foiled the shutout bid but otherwise did little to threaten the Bucs, who entered the inning with a five-run cushion.
Lynn started promisingly enough, striking out three of the first five batters he faced. He wasn't helped in the second by center fielder Jon Jay, whose circuitous route to Pedro Alvarez's deep fly ball allowed it to drop for a ground-rule double.
"That's a play I've got to make," Jay said afterward, "and I didn't."
It was the first of several potential outs in the game not made by the Cards. Jay had trouble taking direct routes to a handful of balls hit deep in the outfield. Molina couldn't corral a foul popup. Freese's missed catch in the seventh led to an unearned run.
"When you get teams at this time of the year, you've got to have all components of your game together," Matheny said. "You start giving extra runners, start giving extra outs, it's going to catch up with you."
Matheny noted, too, that the ball carried differently in the air than it had this season, when Busch Stadium played larger than normal. Jay concurred.
Lynn answered Alvarez's double with a strikeout, after which Matheny opted to intentionally walk eight-hole hitter Jordy Mercer. Cole made him pay. A single up the middle -- Cole's fourth hit in eight at-bats with runners in scoring position -- gave the Pirates the early one-run lead.
"It's kind of funny, but every time before he goes up, he watches another pitcher," Pittsburgh manager Clint Hurdle said of his top-hitting pitcher. "He wants to know the fastball movement. He wants to know what the secondary pitch is. He takes it all in."
An inning later, Alvarez further fattened up his career numbers against the Cardinals with a two-out, two-run blast. It was his second home run of the series and 11th against the Cards since the start of the 2012 season. No one has hurt St. Louis more with the long ball during that span. Alvarez's two-year RBI count sits at 37.
Of Alvarez's seven career hits off Lynn in 23 at-bats, five have been for extra bases.
"The way the ball was carrying today, he put two balls in the air that carried well for him," Lynn said. "It worked out well."
Matheny had Shelby Miller warm and ready by the end of the inning, but he opted to give Lynn a little longer leash. Lynn provided one more shutdown inning before consecutive fifth-inning doubles and a walk ended his day.
It was hardly the outing the Cardinals had hoped for from a pitcher who closed the regular season with four straight quality starts. Instead, it was more reminiscent of Lynn's forgettable postseason starts last October. In each of those, Lynn was out after allowing four runs in 3 2/3 innings.
"It was just a bad game," Lynn said. "Four bad pitches, four extra-base hits. That's what got me today. Make a couple better pitches here and there, it might be a different ballgame."
St. Louis could not muster near enough against Cole to bail Lynn out. Rather, Cole became the latest in a growing list of unfamiliar pitchers to flummox the Cards this season. Despite facing the Bucs 19 times during the regular season, this marked their first in-person look at the top pick from the 2011 First-Year Player Draft.
Cole retired 11 straight after Carlos Beltran cranked a one-out double in the first. Molina's blast snapped that string of outs, but did nothing to jar the rookie right-hander. He closed the fifth without issue and escaped a 23-pitch sixth unscathed.
"They're a really tough offense," Cole said. "They don't strike out a whole lot, and they work counts and pick times to take and pick times to ambush. So it's critical just to make quality pitches early, not only to get ahead, but to minimize damage."
Freese's error and Starling Marte's solo homer off Miller ran up the score late. Miller was one of six relievers to make an appearance. That included ousted closer Edward Mujica, who pitched a clean ninth.
The Cards, previously 6-0 in Game 2 of the NLDS after winning Game 1, advanced only two runners into scoring position after Molina's blast.
"We won a decisive Game 1; they won a decisive Game 2," Carpenter said. "All bets are off for Sunday. We'll see what happens."
Jenifer Langosch is a reporter for MLB.com. Read her blog, By Gosh, It's Langosch, and follow her on Twitter @LangoschMLB. This story was not subject to the approval of Major League Baseball or its clubs.