Offense subdued as Dodgers fall into NLDS tie
Offense subdued as Dodgers fall into NLDS tie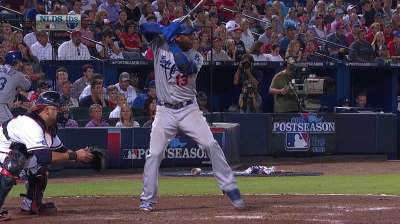 ATLANTA -- Manager Don Mattingly said playoff momentum has a one-day shelf life. If that.
Clayton Kershaw's dominating Game 1 win for the Dodgers has already been neutralized by a 4-3 loss to the Braves on Friday night that sent the best-of-five National League Division Series to Los Angeles tied at a game apiece. Game 3 is Sunday at 5 p.m. PT on TBS.
"We're going into the next game feeling good," said Atlanta winning pitcher Mike Minor.
In an offensive reversal of Game 1, the Braves came up with a trio of two-out RBI hits, while the Dodgers hit into three double plays. Flame thrower Craig Kimbrel gave Atlanta a shaky four-out save, while the Dodgers' bullpen allowed as many runs in the seventh inning as starter Zack Greinke did in the first six innings.
Hanley Ramirez tried to win this one virtually by himself with two doubles and a homer, driving in all of the Dodgers' runs and putting them in position for one last ninth-inning gasp.
But they felt second-base umpire Bill Miller took that away for calling pinch-runner Dee Gordon out trying to steal second on a close play for the second out in the ninth inning with Andre Ethier pinch-hitting. Gordon's purpose for making the postseason roster was to steal key bases like this one.
"I saw 15 angles [of replays] and I was safe on all of them," said Gordon, who was tagged below the waist sliding headfirst as shortstop Andrelton Simmons short-hopped Gerald Laird's throw and blocked the bag with his leg.
"He didn't tag me until I was all over the base. But at the end of the day, doesn't matter what I think. I've got to do better at my job."
Ethier then walked, but Carl Crawford struck out to end it.
"We definitely had a few opportunities," first baseman Adrian Gonzalez said. "All we needed was one big hit and would have put it away, but we weren't able to do it. We've got to do a better job getting guys in."
Ramirez, deftly handling his first postseason opportunity, downplayed the momentum swing.
"The key was to get one on the road," he said. "The crowd will go crazy in L.A. I can't wait."
Mattingly faced some tough questioning afterward for a flurry of decisions in the seventh inning. First, he batted for Greinke with one out and a runner on second base in the top of the seventh, Michael Young reaching an on infield single to put runners on the corners, only for Crawford to ground sharply back to the box for a double play.
"We felt like we actually got what we want," Mattingly said. "Michael got a hit and we had a shot at a run there."
Greinke defended his manager's decision to bat for him with Young.
"It's late in the game, a guy in scoring position and one of the best hitters of his generation," said Greinke, the best hitting pitcher in the league this year. "I'm not in his league. It might be our last chance to get a run. Definitely can't knock the decision in my opinion. The goal is to win, not make the pitcher happy."
Mattingly then ran through four relievers in the bottom of the seventh. He brought in rookie reliever Chris Withrow, who walked Brian McCann leading off and allowed a single to Chris Johnson. Simmons bunted the runners over and Withrow struck out Elliot Johnson.
The Braves sent up left-handed pinch-hitter Jose Constanza, Mattingly countered with the left-handed Paco Rodriguez, right-hander Reed Johnson replaced Constanza and Mattingly had Rodriguez intentionally walk Johnson to pitch to the left-handed Jason Heyward, whose two-run single extended Rodriguez's September struggles into October. The only time they faced previously, Rodriguez walked Heyward.
"At that point we're trusting Paco to do what he had to do," Mattingly said. "Paco is a guy that pitches down and fits into Reed's [swing]. He's a guy we think gets Heyward out -- been getting those guys out all year long for us."
Heyward's two-run single ran Atlanta's lead to 4-1, so Ramirez's two-run homer in the top of the eighth only made the loss bitterer to swallow.
Rodriguez said he would have "liked to face the righty, but we do have the stats and go by the numbers. If I had got ahead in the count, I might have made better pitches. The two sliders in weren't good. Had I attacked the zone and got ahead in the count and been aggressive, but the situation what it was, he put a good swing on it."
Ramirez, who doubled home the Dodgers' first run in the first inning, followed Mark Ellis' leadoff walk in the eighth with a home run off David Carpenter that just snuck past the left-field foul pole. Carpenter struck out Adrian Gonzalez and Yasiel Puig, both fanning for the second time in the game.
"You're facing Greinke after facing Kershaw last night and it was a big win and the guys stepped up and they played tremendous defense and got some add-on runs and we really, really pitched well," said Braves manager Fredi Gonzalez.
Ken Gurnick is a reporter for MLB.com. This story was not subject to the approval of Major League Baseball or its clubs.