Cook confident after fixing issue with mechanics
Cook confident after fixing issue with mechanics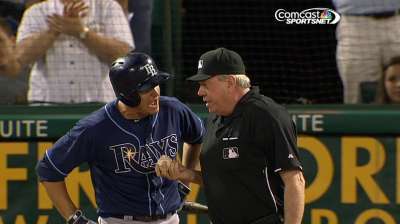 OAKLAND -- Ryan Cook doesn't deny the frustrations that accompanied his late-season funk and -- along with a similar showing from All-Star closer Grant Balfour -- raised questions about an A's bullpen that had performed as well as any in baseball heading into the postseason.
Cook finished the regular season having allowed five runs in 5 2/3 innings over his last nine appearances for a 7.94 ERA after yielding three earned runs in his previous 29 games for a 0.95 ERA.
Fortunately for Cook and the A's, the right-hander appears to have rebounded, with two scoreless innings in his final two appearances after singling out a hitch in his mechanics that he described as, "getting a little bit rotational. My front side was spinning off, which was causing me to get on the side of the ball. I was loosing that zip, if you will.
"It can come pitch to pitch. But it's not anything that you have to worry about," he said. "It's just getting back to what you do and not letting it steamroll, which for a minute there I just didn't feel what I was doing wrong. And once I felt it and once we saw it on film, we made the switch and it's been fine ever since."
Granted, two innings isn't a large sample size, but Cook believes he's as good as ever. "You want to be great every time you take the mound," Cook said. "Every time they give you the ball, no matter what the situation -- up 10, down 10, one-run game -- it doesn't matter. You want to be great. I think that's something our entire bullpen believes, and our whole team, really. It was frustrating there for a minute, no doubt, to not be able to pinpoint what was going wrong. But what a relief it was when we did."
Cook's recovery will be crucial to the A's attack as they get set for their matchup against the Tigers in the American League Division Series (watch Game 1 on Friday at 6:30 p.m. PT on TBS). Oakland's bullpen ranked third in the AL with a 3.22 ERA, issuing the fewest walks in the AL (154) and second fewest in the Major Leagues behind the Cardinals' 148.
These numbers come in spite of respective slumps by Cook, Balfour and Sean Doolittle throughout the season. The ability for the pitching staff to return to form, Cook said, is largely a result of manager Bob Melvin's trust in his staff.
"The way he communicates and the faith he has in us as players is remarkable. He's got a lot of faith in us. He's going to keep giving you the ball," Cook said. "It goes away just as fast as it came," he added, snapping his fingers for emphasis. "He believes in that, and we believe in him. And if he puts me in the game, I'm going to get the job done for him."
Jane Lee is a reporter for MLB.com. Read her blog, Major Lee-ague, and follow her on Twitter @JaneMLB. Jeff Kirshman is an associate reporter for MLB.com. This story was not subject to the approval of Major League Baseball or its clubs.