Tuiasosopo accepts decision to leave him off roster
Tuiasosopo accepts decision to leave him off roster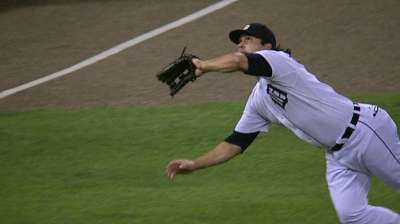 OAKLAND -- If someone had told Matt Tuiasosopo going into Spring Training, when he was sitting at a locker in a distant corner of the clubhouse at Joker Marchant Stadium, that he would spend the entire season in the big leagues with the Tigers, he would've been overjoyed. So there's that.
Still, if someone had told him that he would spend all year on a division winner and not make the postseason roster, the disappointment would've been natural.
That's what Tuiasosopo faces. He's still with the team in Oakland, working out and taking swings. But unless the Tigers sustain an injury, he won't be a part of this American League Division Series.
Tuiasosopo wasn't shocked.
"Obviously, I knew with Jhonny [Peralta] coming back, there was going to be someone that had to go," Tuiasosopo said Thursday. "They made a decision. I'm thankful to be here. I'm still here and able to work out with the guys and be ready if anything does happen."
He also knew Peralta's return wasn't the only factor. Tuiasosopo finished his regular season in an 0-for-22, 15-strikeout slump that lasted exactly a month, from August 29 to season's end. He struck out in his final five at-bats to end the regular season.
Tuiasosopo now admits the slump got to him.
"It was tough, frustrating," Tuiasosopo said. "I wish I would've played a lot better. I obviously know I could've done a lot better. I was trying to do too much. I remember coming back in the second half [thinking], 'Let's do more. Let's not have a dropoff. Let's go do more.' And then obviously as I went south, the next day I would try to recover what I lost. And then I had another bad day, and I'd think I need five hits today to recover. And it just started a downward spiral."
Jason Beck is a reporter for MLB.com. Read Beck's Blog and follow him on Twitter @beckjason. Paul Hagen is a reporter for MLB.com. This story was not subject to the approval of Major League Baseball or its clubs.