Braves' home playoff woes continue in Game 1
Braves' home playoff woes continue in Game 1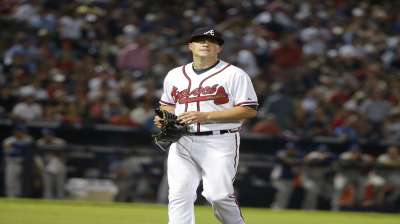 ATLANTA -- Home was more hospitable to the Braves than any other National League team throughout the regular season. But once again in the postseason, Turner Field served as the stage for costly October mistakes.
As if opposing Clayton Kershaw was not enough, Kris Medlen was tasked with overcoming the defensive miscues that doomed the Braves as they suffered a 6-1 loss to the Dodgers in Game 1 of the National League Division Series on Thursday night.
"We've got a lot guys out there who were in their first or second game in the postseason, and myself included," Braves manager Fredi Gonzalez said. "I think it took us about two or three innings to kind of settle down a little bit."
By then it was too late. The Dodgers took advantage of a couple of mistakes in their two-run second inning and then increased their lead to 4-0 with Adrian Gonzalez's two-out, two-run home run in the third, which began with second baseman Elliot Johnson mishandling Carl Crawford's hot shot that was hit right at him.
The early advantage provided more than enough comfort for Kershaw, who recorded 12 strikeouts and allowed just three hits during his 124-pitch, seven-inning effort. After needing 77 pitches to complete the first four innings, the top NL Cy Young Award candidate struck out eight of the 10 batters he faced in his final three innings.
"We felt good, but sometimes you have to tip your cap to an ace," Braves center fielder Jason Heyward said. "Runs are going to be hard to come by sometimes in the playoffs. They jumped out early. If you give a guy like that, that kind of lead, he can do what he does."
With their 15th loss in the 20 home postseason games they have played dating back to 2000, the Braves have put themselves in the unenviable position of having to win three of the potential four games remaining in this best-of-five series. If they do not win at least two of the next three games, Friday's game will serve as the last played this year in Atlanta, where the Braves spent the past six months producing an NL-best .691 winning percentage.
"They're a great team, and when you have an opposing pitcher on the mound who is as good as Kershaw, I mean, there's not a lot of room for error, and I had a lot of error tonight," Medlen said. "Obviously frustrating, but that's the beauty of there being a series rather than just a one-game thing."
Medlen shouldered much of the blame after allowing five earned runs and nine hits in four-plus innings. But the defensive mistakes -- none were scored as errors -- made behind him rekindled memories of when his effort in last year's Wild Card Game against the Cardinals was marred by three errors.
After energizing a raucous crowd with three strikeouts in a perfect first inning, Medlen saw things begin to crumble during Los Angeles' two-run second, which was aided by Heyward's errant attempt to retire Yasiel Puig on Skip Schumaker's sacrifice fly and Evan Gattis' inability to run down A.J. Ellis' two-out RBI double.
"It's baseball," Medlen said. "You feel good one moment and then you can still feel good and give up hits. I felt like I made some good pitches to some guys."
Playing in his first career postseason game, Gattis experienced a forgettable second inning. His defensive limitations as an outfielder were displayed when he dove and missed Ellis' catchable liner to left in the top half. Then with his club trailing by two runs in the bottom half, he ran toward second base on Chris Johnson's one-out fly ball to right field and was unable to get back to first base to prevent an inning-ending double play.
Added adrenaline might have also influenced the high errant throw Heyward made to the plate while attempting to prevent the speedy Puig from scoring the game's first run on Schumaker's second-inning sacrifice fly. If Heyward had made a throw that could have been cut off, Juan Uribe would not have advanced to second base, from where he scored easily on Ellis' double.
"As far as taking a chance at him right there, I'm fine with that," Heyward said. "I think everybody is. But at the same time, you have to make sure the throw is down. Runs are hard to come by, especially against a guy like Kershaw. If you can cut him down at the plate, you take advantage of the opportunity to do so."
Elliot Johnson extended the defensive woes when he mishandled Crawford's sharp grounder to begin the third inning. Three batters later, Adrian Gonzalez drilled a two-run home run that gave the Dodgers a 4-0 lead against Medlen, who has allowed just four earned runs in the 29 1/3 regular-season innings he has completed against Los Angeles.
"They got a couple of two-out RBIs that really put a dagger in your offense," Fredi Gonzalez said. "But it's maybe a combination of guys being over-amped a little bit. We had a baserunning mistake for Gattis there, getting doubled up. But for me, Gattis was a little amped up there in that situation."
Before Kershaw found his dominant form, the Braves squandered some opportunities. During the third and fourth innings combined, they recorded one hit in six at-bats with runners in scoring position.
When Gattis drew a four-pitch walk after Freddie Freeman laced a one-out single in the fourth, it looked like the Braves might do some damage. Chris Johnson scored Freeman with an RBI single. But the inning could have been even more productive had Brian McCann got a little more on the long fly ball that Crawford caught against the left-field wall.
"I think I looked up there in the fifth, and we had three hits, but it seemed like we battled better than that," McCann said. "He had [more than] 100 pitches through seven, and we had his pitch count up. We just didn't score any runs. I thought we had a good game plan off him, but we just didn't get the timely hit."
Mark Bowman is a reporter for MLB.com. This story was not subject to the approval of Major League Baseball or its clubs.