Dodgers ace Game 1 behind Kershaw's 12 K's
Dodgers ace Game 1 behind Kershaw's 12 K's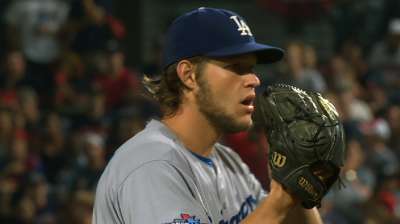 ATLANTA -- Without Matt Kemp on the roster, without Andre Ethier in the lineup and without Clayton Kershaw at his best early, the Dodgers still had too much for the Braves on Thursday night, cruising to a 6-1 win in Game 1 of the best-of-five National League Division Series.
Kershaw allowed one run on three hits over a gritty, and sometimes dominating, seven innings, running up his pitch count when he lacked fastball command in the early innings, but looking like a Cy Young favorite over the final three innings.
He struck out six consecutive batters at one point (Tim Belcher had seven in the 1988 World Series), fanned eight of the last 11 he faced and finished with 12, second most by a Los Angeles Dodgers pitcher in the postseason behind Sandy Koufax's 15 in Game 1 of the 1963 World Series.
Kershaw threw 124 pitches, so he won't be back for Game 4. If there is a Game 5, he would start it on five days' rest. This was his first postseason win, another box checked off on a remarkable resume.
"It might be the best [win] just because it's my first postseason win," said Kershaw, who had never beaten the Braves.
Now that the Dodgers ace is out of the way, the Braves get to face Zack Greinke in Game 2 on Friday at 3 p.m. PT on TBS. The Dodgers can take the series back to Los Angeles with a commanding lead and nothing worse than a split.
Before Kershaw settled in, an offense that could have stumbled without Kemp and Ethier instead punished Braves ace Kris Medlen, who allowed more runs in four-plus innings than he did all of September, when he was the NL Pitcher of the Month. Seven of the Dodgers eight position starters had at least one hit.
Adrian Gonzalez slugged a two-run homer, A.J. Ellis had a pair of doubles, rookie Yasiel Puig reached base three times and scored the first run and Skip Schumaker, filling in for the injured pair of center fielders, had a sacrifice fly for the Dodgers.
"The difference for us early was a couple of big two-out hits -- Adrian's home run with two outs and Mark Ellis' two-out hit -- and we kind of just kept adding on," said Don Mattingly, 1-0 managing in the postseason. "And when you've got Kershaw out there and keep giving him space, you put a lot of pressure on the other team."
The Dodgers lost five of seven regular-season games to the Braves this year, but those Dodgers were an injury-riddled last-place team when they played the Braves in the first half. Now they're an injury-riddled division champion. Hanley Ramirez, who didn't play in any of those seven games, played in this one and had an RBI double. And Kershaw never started any of those games.
After going from last to first and pulling away with the NL West, the Dodgers finished the season losing 14 of their last 23. But they flipped the switch when the calendar turned to October, even with blows to the roster.
"We're definitely more confident having gone through everything we went through during the season," A.J. Ellis said. "We went on that run without Matt, so we've got all the confidence in the world we can still win. We can rise to the occasion."
Kershaw did and outpitched Medlen in this one, but he had to battle as his pitch count was already 77 through four innings and 91 through five.
"When you look up and see 77 pitches in the fourth inning, you feel like you have a chance," Atlanta manager Fredi Gonzalez said. "But he is what he is. He turned it up the next three or four innings."
Kershaw gave A.J. Ellis credit for steering him away from the fastball over the final three innings.
"He recognized quickly that my fastball wasn't where it needed to be and adjusted the game plan accordingly, and it worked," Kershaw said.
Ellis said the light bulb went on when Andrelton Simmons was handcuffed by a slider to strike out with runners on the corners to put down a fourth-inning rally.
"It was an unhittable 3-2 slider and it set the tone for the rest of the game," Ellis said. "It reminded me how good his slider is and we had to use it more. That's him right there. The pitcher he's become, not just the thrower."
Medlen struck out the side in the first inning, a wake-up call to Dodgers hitters who were warned about chasing the pitcher's changeup.
"We had to be more cautious and make adjustments next time around," leadoff hitter Carl Crawford said.
Puig, dropped to fifth in the batting order with Kemp and Ethier missing, got it started with a one-out single up the middle in the second inning, then was nearly picked off on four attempts by Medlen. Juan Uribe sent a soft liner over the glove of leaping shortstop Simmons. Puig hesitated to be sure the ball cleared Simmons, then exploded around second base and hustled to third with no throw as center fielder Jason Heyward couldn't grip the ball.
With runners on the corners, Puig scored on a sacrifice fly by Schumaker, and on Heyward's wayward throw home Uribe took second. A.J. Ellis then pulled a sinking liner that eluded the late diving attempt of left fielder Evan Gattis, as Uribe scored the second run.
Gattis had more trouble in the bottom of the second after reaching first on a bloop single that landed between Puig in right field and second baseman Mark Ellis. With one out, Chris Johnson flied to right and Gattis got lost in space, unable to return to first before Puig's two-hop toss doubled him off.
Crawford led off the third with a one-hopper at the feet of second baseman Elliot Johnson for what was generously scored a single. With Medlen distracted by Crawford at first base, Gonzalez blasted the first pitch for a two-run homer to center.
"It was an 0-0 changeup, but a very bad 0-0 changeup," Medlen said. "I wish I could have got on base to tell him how good his swing is."
Ken Gurnick is a reporter for MLB.com. This story was not subject to the approval of Major League Baseball or its clubs.