Rays prepare for another pitchers' duel in ALDS
Rays prepare for another pitchers' duel in ALDS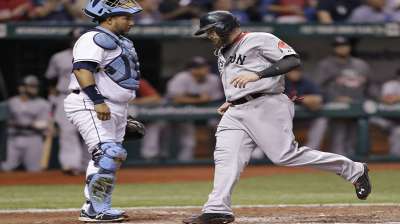 BOSTON -- For all of Boston's offensive firepower, it was the Red Sox pitching staff that gave the Rays the most trouble this season.
Tampa Bay's staff held the Majors' highest-scoring offense to a .208 team batting average and 71 runs (3.7 per game) in 19 meetings this season. That's even more impressive, considering the Red Sox hit .292 and scored 5.5 runs per game against the rest of the league. And yet the Red Sox won the season series, 12-7, Tampa Bay's first losing season against Boston since 2007.
More often than not, the Rays will win with that kind of run prevention. The problem for them this season against the Red Sox was that they couldn't muster enough offense to support their strong pitching. Consider that Tampa Bay scored only seven runs and batted .166, including .054 with runners in scoring position, in six losses at Fenway Park.
Rays manager Joe Maddon believes his club is more than capable of righting the ship offensively in the American League Division Series, starting Friday at Fenway Park (3 p.m. ET on TBS).
"If you look at the history of this season, it's been primarily their pitching has really been tough on us," Maddon said. "Having said all that, we'll do a little bit better offensively. ... I think a lot of times when your offense struggles a bit, there's a lot of tension among the offensive players. We've had that, based on our inabilities to drive in runs and runners in [scoring] position, etc.
"I want to believe the journey we've just gone through [over the last week] is going to hopefully relax our hitters a bit, so you might see a better offensive ballclub to go along with pitching and defense."
Though the Red Sox handily won the season series, it's not as if they stomped all over the Rays. Boston outscored Tampa Bay by 14 runs this year, and the Rays lost six games to the Red Sox in the ninth inning or later, including three walk-offs at Fenway Park.
"We certainly felt like we could've switched roles," second baseman Ben Zobrist said. "We could've been the team that was clinching the AL East at the time they were, and they could have been in our position, with the way our season series went against them. They just came out on the better end of it. So now, we're hoping to reverse the roles here in the postseason."
Adam Berry is a reporter for MLB.com. Follow him on Twitter at @adamdberry. This story was not subject to the approval of Major League Baseball or its clubs.