Burnett's short start sets tone as Bucs drop Game 1
Burnett's short start sets tone as Bucs drop Game 1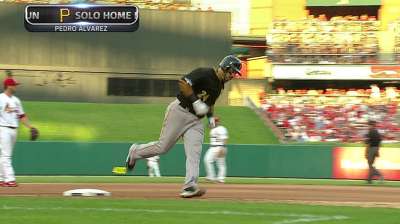 ST. LOUIS -- Get the fire hose and the industrial-strength soap ready. The Pirates have to shower away a tough loss, and they have only a few hours to do it. Manager Clint Hurdle and his boys always talk up the virtue of "showering well" and coming back clean the next day, and they've got some serious grime to deal with.
Coming out heavy-handed and characteristically clutch, the St. Louis Cardinals took out the Pirates, 9-1, in Game 1 of the National League Division Series on Thursday night.
"Game 164 was rough," Hurdle said. "We've been real good to not overcook things when we don't play well. We're down one game and we'll go on."
There is no overcooking this game. It was raw, from A.J. Burnett's brief outing, to flailing at Adam Wainwright's breaking balls to committing three errors to give St. Louis help it did not need.
"You like to be crisp every single time you go out there," said Andrew McCutchen, who had half of the Bucs' four hits, but also one-third of their errors. "Too bad this had to be in Game 1 of the playoffs. But it's better than in Game 5."
Burnett vividly showing up without his stuff on a day Wainwright and his swinging mates clearly had theirs was an unfortunate combination, as the Cardinals drubbed the Pirates in front of 45,693 at Busch Stadium.
Pittsburgh will ask Gerrit Cole to even matters in Friday's Game 2 at 1 p.m. ET on MLB Network. Taking a 1-1 series back to PNC Park for a Game 3 on Sunday (4:30 p.m. ET on TBS) in front of that enthusiastic home crowd would stoke the Bucs after Thursday's tumble.
"That's it ... they have the home advantage," Marlon Byrd said. "Now we've got to steal one from them and go home and try to close it out. So yeah, it's key to get a win."
The NLDS opener evolved into the second phase of the Pirates' razing here, which began on Sept. 6-8, when the Cardinals routed them in three games by a 26-10 count, including 9-2 in the series finale. In this one, the Cards took the suspense, and the Bucs, out in a seven-run third -- the highest-scoring inning in NLDS history.
In looking ahead to the series-opening matchup, Burnett had referred to Wainwright, the NL's co-leader with 19 wins, as "a horse." Pittsburgh's nine men against St. Louis' nine horses -- eight pregame parading Clydesdales and Wainwright -- was no contest.
"We have faced these guys so many times," said Cardinals shortstop Daniel Descalso after the Redbirds' seventh meeting of the season with Burnett. "Obviously, when you face a guy a bunch, you know what he's trying to do. I thought we had a good game plan for him today and we executed it."
"He didn't have his stuff today," Hurdle said of his veteran righty. "I mean, that's it at the end of the day. He didn't have his stuff. Did he have the ability to get a ground ball? We felt he did. He got a few of those."
Yet, the couple of key grounders -- even Descalso hitting into an inning-ending double play in the second -- only clued in Burnett that he was in trouble: They were hit off curves hitters normally whiff.
"I knew the hook was up," Burnett said. "I got a couple of ground balls on it instead of swings and misses. I tried to keep battling to find my groove. Just never found it."
In two-plus innings, Burnett allowed seven runs on a combination of six hits and four walks. His lack of weapons -- in his shortest playoff start since going two innings in Game 5 of the 2009 World Series -- was betrayed by the fact he departed a start without a strikeout for the first time since June 30, 2004, when he lasted one inning for the Marlins in Atlanta.
Inducing only four swings and misses on his 72 pitches was also a pretty good tipoff.
"It was tough," Burnett had to admit. "Obviously you want to come out and put your foot down, and I wasn't able to. I'll do my work, in case I do get the ball again."
About that: Burnett's next start potentially would come in Game 5 back here, where he already has an ERA of 15.50 in five career starts. Cole could also rebound to make that Game 5 start on Wednesday on the regular four days' rest.
The biggest connections in the Cards' seven-run third were by Carlos Beltran, who broke open a tenuous scoreless duel with a majestic three-run homer to right field, and by David Freese, whose bases-loaded single drove in two runs and wound up clearing the bases when Byrd's throw from the outfield clipped Freese and bounced away for an error.
Beltran's 15th postseason home run tied Babe Ruth's all-time career record for eighth in postseason history. The usual criticism of comparing postseason records across eras because of the disparity of the number of games doesn't really hold here: Beltran got his 15 in 35 games; The Bambino had done it in 41.
"He's like our secret weapon when it comes to the postseason," Cardinals second baseman Matt Carpenter said. "He steps up every time. You can look at his career numbers and see that. Some guys just have a knack for those big games, and he's one of them."
Wainwright held the Pirates hitless until McCutchen's two-out single in the fourth, and scoreless until Pedro Alvarez led off the fifth with a long home run.
"Gosh, he was tough," said Byrd, shaking his head for emphasis. "He had command of every pitch, and he worked quick, in sync with Yadi [catcher Yadier Molina], wasn't shaking him off. We didn't get any good swings off him -- well, Petey [Alvarez] did -- but overall, he was tough."
McCutchen called Wainwright's curve "the difference in the game. He got a lot of swings and misses with it."
Wainwright cruised for seven innings, throwing 70 percent of his pitches for strikes and shutting down Pittsburgh on one run and three hits. He whiffed nine, without a walk.
Tom Singer is a reporter for MLB.com and writes an MLBlog Change for a Nickel. He can also be found on Twitter @Tom_Singer. This story was not subject to the approval of Major League Baseball or its clubs.