Sox more than prepared to deal with Rays' shift
Sox more than prepared to deal with Rays' shift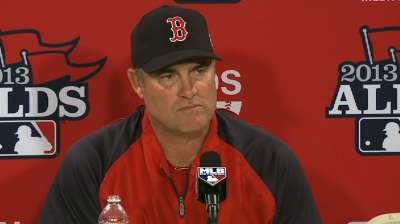 BOSTON -- Mike Carp remembers the Rays trying to put a defensive shift on him last year.
"They don't pull that on me," he said. "They tried one time. I went to bunt. If they were going to give me the hit, I was going to take it. I just showed it."
Carp showed bunt, and that was it. Carp hasn't seen the shift since, but against manager Joe Maddon, nobody is safe from some kind of defensive shifting.
"Obviously you try to gauge where position players are on the field, but most of the time, it's pretty straight up with me," Carp said. "I use the whole field. I'll take what they give me."
David Ortiz, Jarrod Saltalamacchia, Daniel Nava, Jonny Gomes and Mike Napoli have all been shifted on in some variation by the Rays, who seem to shift as often as any team in baseball.
Ortiz has done just fine with it. He's hit .289 with a .968 OPS in his career against the Rays.
The others, however, haven't fared so well against Tampa Bay.
In their careers against the Rays, Saltalamacchia has hit .178, Nava has hit .189, Napoli has hit .217 and Gomes has hit .232.
"You just have to open up your lane by doing certain things during the season," said Saltalamacchia, "and once playoffs start, you have to do what you've been doing all year round."
Jason Mastrodonato is a reporter for MLB.com. Follow him on Twitter @jmastrodonato. This story was not subject to the approval of Major League Baseball or its clubs.