Feeling energized, Doubront excited to pitch out of 'pen
Feeling energized, Doubront excited to pitch out of 'pen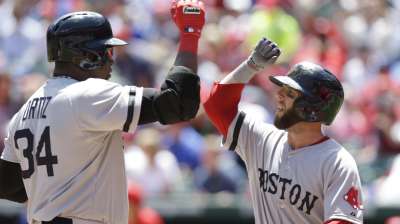 BOSTON -- It looks like Felix Doubront will be on the Red Sox's postseason roster after all.
Coming off his best season as a Major Leaguer, the left-handed starter said he'll make the transition to the bullpen to help the Red Sox against the Rays in the American League Division Series, which starts Friday at 3 p.m. ET on TBS. While the team has yet to announce its final roster and Doubront wouldn't confirm his place on it, all signs point to Doubront's inclusion.
"The possibility is yeah, they have me as a reliever," Doubront said. "I'm excited to make that roster and help the team win."
Manager John Farrell had previously expressed concerns over Doubront's willingness to make the adjustment, especially with so little time to test out the new role. Doubront made just two relief appearances this season, and only one in the final three months when he allowed five earned runs over 1 1/3 innings against the Orioles on Sunday.
However, Doubront said he's feeling much more energetic than he was in the season's final month, when he made just three starts as he worked through fatigue. Working out of relief could actually help Doubront stay fresh.
"You have to save as a starter, you have to save more velocity," he said. "But relieving, you give everything for one hitter, one inning, two innings. It's fun."
If Doubront does indeed make the roster, it would likely push Matt Thornton out, considering the Red Sox also have lefties Craig Breslow and Franklin Morales. Thornton held lefties to a .235 average this season, though he was hardly used down the stretch, pitching just two innings over the final two weeks while allowing two runs.
Doubront held lefties to a .247 average and righties to a .267 average this season.
Jason Mastrodonato is a reporter for MLB.com. Follow him on Twitter @jmastrodonato. This story was not subject to the approval of Major League Baseball or its clubs.