'Wright' way to start: Cardinals rout Pirates in Game 1
'Wright' way to start: Cardinals rout Pirates in Game 1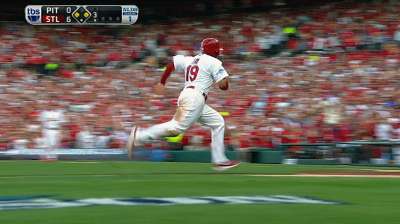 ST. LOUIS -- The storybook season may belong to Pittsburgh, but with a convincing 9-1 victory on Thursday, the Cardinals sent a clear message that October still runs through St. Louis.
Facing the darlings of the postseason -- a Pirates team that arrived at Busch Stadium on the high of its National League Wild Card Game win on Tuesday night at PNC Park -- the Cards squashed any supposed Pittsburgh momentum and took preferred positioning in the best-of-five NL Division Series. The Redbirds, having played 11 Division Series since the Bucs were last postseason participants, have never lost one after taking Game 1.
"It's important to start on a good track," said catcher Yadier Molina, "and that's what we did tonight."
"To be able to get out on a good first step and play well today, I think is big for our guys confidence-wise," added manager Mike Matheny. "[It] also gives us an opportunity to just take some momentum, and momentum is big right now when you talk about a five-game series."
Thursday seemed much a continuation of the last time the Cardinals hosted the Pirates. In sweeping that home September series and outscoring Pittsburgh by 16 runs (26-10), St. Louis took control of the NL Central. That also was the starting point for the club's season-closing 17-5 run.
In this one, the Cards flexed their superiority during a seven-run third inning. Though he navigated through potential problems in the second, Bucs starter A.J. Burnett threw 37 third-inning pitches and never did record an out.
"He didn't seem to have his best command," shortstop Daniel Descalso said. "We laid off some good pitches. When that happens, guys are bound to come over the plate [with their pitches], and when he did, we were ready."
The veteran Burnett opened the frame by becoming the first pitcher to walk Adam Wainwright this season. Matt Carpenter followed with a single, and both lifted their arms in celebration as they watched Carlos Beltran crush Burnett's 2-1 sinker 443 feet into the second deck in right field.
It was just the latest footnote in Beltran's growing October resume. A career .357 postseason hitter and the team's regular-season home run leader, Beltran equaled Babe Ruth with 15 playoff home runs. The blast was also the second-longest homer hit in the ballpark by a left-handed batter.
"I thought it was going to go completely out of the stadium," Carpenter noted. "He's like our secret weapon when it comes to the postseason. He steps up every time."
The sellout crowd of 45,693 drew Beltran out of the dugout for a curtain call. What followed was a record-setting inning, and it more than sufficiently supported a strong seven-inning performance from the Cardinals' ace.
Flaunting the depth of their lineup, the Cards sent 11 batters to the plate in the third. Matt Holliday followed Beltran's blast with a double, and Burnett loaded the bases by hitting Matt Adams and walking Molina. Another walk, to Jon Jay, pushed home a run. The bases then emptied on David Freese's two-run single and an error by right fielder Marlon Byrd.
That was the first of three Pittsburgh errors; the latter two each resulted in unearned insurance runs. Pirates manager Clint Hurdle summed up his day in few words, saying simply: "Game 164 was rough." This was the fourth time this season that the Bucs had allowed the Cardinals to score at least seven runs in an inning. Pittsburgh has not allowed any other team to score that many runs in an inning this year.
The Cards became the first NL team to produce a seven-run inning in a DS game. Only the 2002 Angels (eight) have had a more fruitful DS frame. The last club to boast a seven-run inning in any playoff round was the 2011 Rangers, who tagged Tigers pitching for nine in the third inning of Game 6 of the American League Championship Series.
All seven runs were charged to Burnett, who entered with a career 13.50 ERA at Busch Stadium. He had not allowed more than six earned runs in a start all season.
"The only thing I can say is that I've prepared to do what I can out there and given it all I can," Burnett said. "It just wasn't enough."
Wainwright would have secured his third career postseason victory with a fraction of that support. He was dominant through seven innings and faced the minimum in five. A leadoff home run by Pedro Alvarez in the fifth -- set up by what Wainwright called a "fluttering changeup in the middle of the plate" -- was all that squandered a potential shutout.
With a wicked curve to complement a fastball that registered as high as 96 mph, Wainwright opened the game by retiring the first 11 batters he faced. He walked none, and outside of Alvarez's homer, the Pirates mustered just two singles.
"I think his curve," NL MVP Award candidate Andrew McCutchen said, "was the difference in the game."
Wainwright struck out nine, padding his hold as the Cardinals' all-time DS strikeout leader by pushing that total to 37. His other 12 outs were all recorded in the infield. On a team where the rest of the starters have made a total of two postseason starts, Wainwright set the desired tone.
"Well, I'd like to say we're going to have three or four dominant pitchers in this postseason, yet to be determined," Wainwright said. "But you can definitely count me in. ... It's important to have somebody go out there that you can count on for sure. But I believe we have more than just me out there that can do that."
The comfortable lead also allowed Matheny the flexibility to pull Wainwright with a modest pitch count of 105. He then took the opportunity to get rookies Carlos Martinez and Trevor Rosenthal a taste of the innings they'll likely cover throughout the postseason.
Martinez retired the side in order in the eighth. Rosenthal allowed an innocuous two-out single.
"I was happy to get into the game after those [three] days off," Rosenthal said. "We have a lot of big games ahead, so I look forward to more opportunities to contribute there."
Jenifer Langosch is a reporter for MLB.com. Read her blog, By Gosh, It's Langosch, and follow her on Twitter @LangoschMLB. This story was not subject to the approval of Major League Baseball or its clubs.