Oct. 2 Alex Cobb postgame interview
Oct. 2 Alex Cobb postgame interview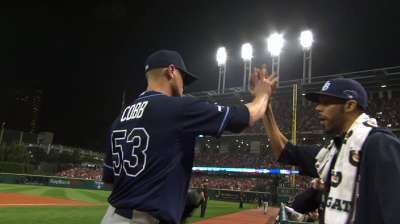 Q. You talked outside about how Molina uses imagination with you in pitch calling. Explain what you mean.
ALEX COBB: Most nights are pretty prototypical for me, it's fastball in to the lefty, changeups away, mix in the curveball here and there. The fastball location was just all over the place tonight. Changeup was nonexistent for most of the day.
So Jose really got creative back there. He called curve balls in situations I wouldn't normally throw a curveball. We were in a big jam and we needed a pitch, he put down a changeup. I executed every once in a while, but for the most part he got creative and got me out of some big situations.
Q. How would you describe your whole season from the start to the injury to this moment right now?
ALEX COBB: It's been a blur. I don't know if that's because of the concussion or it's just been up and down all year. You know, I came out of camp, before camp not even knowing if I was going to be on the team really.
And then Joe came out and told media the first day of Spring Training I was pretty much in the starting rotation, and since then it's been great. It's been a lot of learning points this year, and then a lot of appreciation points, also, going down with the injury and sitting and watching your team go on and do what they were doing during that span and keeping you in first place, battle between us and Boston back and forth.
I appreciated being back out there, and then when I did get back out there, I vowed to never forget that feeling I had back at home watching the team and to leave it all out on the field really. It's been a whirlwind for sure.
Q. David Price went out there and gave you a big hug. What did he say to you?
ALEX COBB: David has been talking to me all night. I don't remember that one key point that he said something. He's been telling me how proud he is. For David, he's the leader of this staff and he knows that. He's taught us a lot of things, especially dating back to when he was struggling coming off a Cy Young award and he was struggling the first month of the season or so. He was our biggest cheerleader. A lot of guys, a lot of aces wouldn't be able to swallow their pride like that and be able to cheer on the rest of the guys, but he was top step, rooting for everybody, and nobody wants us to succeed more than him, I think. I really feel like he feels like he has definitely had an impact on our careers, and I think it's fun for him to see us go out there and succeed.
Q. Can you talk about how you reined in your emotions in this atmosphere, especially when it got tight when you had runners on base, you were able to buckle down when it seemed like everything was against you at that point?
ALEX COBB: I don't know. It was tough. From the second I stepped out on the field tonight, to go warm up, this crowd was electric. I mean, I haven't experienced anything like that in the past career.
I witnessed a little bit in Texas with David on the mound, but when you're not asked to do anything, it's easy to just kind of look around and enjoy it. But when you actually have to mentally be present and think and execute pitches, it's difficult.
It took me a few innings to really figure out how to harness that and slow things down. We always slow things down on the mound, but when it's a situation like this, you can allow a lot of thoughts to go through your mind, and you have to really be present of not allowing those thoughts to creep in your mind and slow down and just execute pitches.
Maybe it was a good thing I got in some jams because it did make me slow down a couple times and execute a big pitch when I needed to.
Q. You guys have thrived in hostile environments. Can you talk about that, and what you expect up in Boston?
ALEX COBB: I expect the same thing up in Boston, maybe a little bit more. Those fans are extremely intense. I grew up going to those games and witnessed it firsthand. But this team, nobody wants to go home. We've battled through some big time, extreme ups and downs, and getting down to this latter part of the season in September, beginning of September, we struggled pretty hard, and we felt it in the locker room. We were not happy with ourselves, and we knew we had ourselves in a good position to get in the postseason. We were watching that kind of slip away.
Later on in September something clicked. We got hot. We're bringing that into the postseason right now. We've been facing elimination games, our back was against the wall against Game 162, 161. We wouldn't have it any other way. I think it's making us bear down, and we really enjoyed the pressure.
FastScripts by ASAP Sports This story was not subject to the approval of Major League Baseball or its clubs.