Famous Rays deliver, topping Tribe in Wild Card
Famous Rays deliver, topping Tribe in Wild Card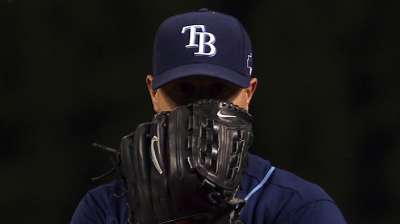 CLEVELAND -- Wednesday night was, for all intents and purposes, Game 7.
And that meant elimination for either the Rays or Indians in the one-and-done American League Wild Card Game. Thanks to Alex Cobb's pitching and just enough offense, the Rays took a 4-0 win over the Indians.
Over the course of four days, Tampa Bay had to win three consecutive games on the road at Toronto, Texas and Cleveland in order to avoid elimination.
"That's three different venues, three difficult venues," Rays manager Joe Maddon said. "Toronto was packed, also. Texas in a quasi-playoff game. And then today's game. All in enemy territory. I'm so proud of our guys."
The Rays will now advance to a best three-out-of-five AL Division Series matchup against the Red Sox, with the first game to be played Friday at Fenway Park.
Cobb allowed no runs on eight hits a walk and five strikeouts to pick up the win, showing no signs of buckling under the pressure created by the sellout crowd of 43,579 towel-waving Indians fanatics.
"It was tough," Cobb said. "From the second I stepped on the field tonight, to go warm up, this crowd was electric. I mean, I haven't experienced anything like that in the past in my career. ... When you actually have to mentally be present and think and execute pitches, it's difficult.
"It took me a few innings to really figure out how to harness that and slow things down. We always slow things down on the mound, but when it's a situation like this, you can allow a lot of thoughts to go through your mind, and you have to really be [careful about] not allowing those thoughts to creep in your mind, and slow down and just execute pitches."
Cobb cruised in the beginning, hanging three zeros on the scoreboard before finding trouble in the fourth when the Indians loaded the bases with one out. But Cobb got Asdrubal Cabrera to roll over to James Loney at first. Loney quickly snapped a throw to Yunel Escobar covering at second, and the Rays' shortstop threw a strike to Cobb at first to complete the inning-ending double play.
Cobb escaped another jam unscathed in the fifth after the Indians put runners at the corners with no outs. Cobb then first struck out Michael Bourn before retiring Nick Swisher on a groundout to first that saw Loney tag the base then throw home. Yan Gomes was trapped between third and home on the play, but Evan Longoria was shifted away from third base. That allowed Gomes to get back to third safely.
Cobb still had work to do, as Lonnie Chisenhall advanced to second on the play. But Jason Kipnis then grounded to Cobb, who underhanded the ball to Loney for the third out.
Cleveland got two aboard in the seventh when Cabrera and Gomes cobbled together back-to-back singles with one out. After Bourn flew out to center for the second out, Joel Peralta entered the game for Cobb to face Swisher.
Swisher swung mightily and missed on three straight pitches to end the threat.
"Maybe it was a good thing I got in some jams, because it did make me slow down a couple of times and execute a big pitch when I needed to," Cobb said.
Indians manager Terry Francona stated the obvious when he noted of Cobb, "He didn't pitch like a young pitcher.
"We had our share of hits and we had our share of opportunities, and when we had men on base, he was able to -- it was like as the stadium got louder, he could take something off, spin a breaking ball, throw a changeup."
Delmon Young gave the Rays a 1-0 lead when he homered on Danny Salazar's first pitch of the third inning. To that point, the Indians' starting pitcher had retired the Rays in order, four by strikeouts.
Young's homer was his fourth in his last 32 postseason at-bats and his ninth in his last 23 postseason games. Of those nine home runs, five have come on the first pitch.
"I can't figure that one out," said Young when asked to explain his postseason success. "I think next year I need to act like it's the postseason at the beginning of the season."
Desmond Jennings added a two-out, two-run double in the fourth that pushed the lead to 3-0.
"Just got a good ball over the plate to hit," said Jennings, who has been nursing a tight left hamstring. "It's huge [to get a hit like that]. This is the postseason. You want to be the guy to come up with the big hit or the big play to keep things alive."
Escobar plated an insurance run in the ninth with a one-out RBI single, scoring Ben Zobrist, who had opened the inning with a single and advanced to third after an error by Cleveland third baseman Chisenhall's miscue on a grounder off the bat of Young.
After Cobb's departure in the seventh, Joel Peralta combined with Jake McGee to hold Cleveland scoreless through the eighth before Fernando Rodney retired the Indians in the ninth to complete the second postseason shutout in Rays franchise history.

"That's hard [to face elimination every day]," Rodney said. "You lose one game, you have to go home. The rule we have right now that matters is you have to come here right now and play hard to win one game."
Bill Chastain is a reporter for MLB.com. This story was not subject to the approval of Major League Baseball or its clubs.