Francona keeps Perez on roster for Wild Card Game
Francona keeps Perez on roster for Wild Card Game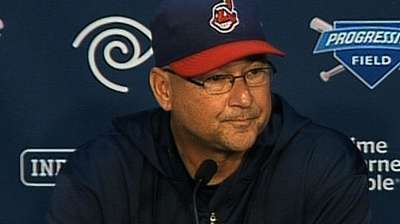 CLEVELAND -- The ninth inning no longer belongs to Chris Perez, but the Indians included the former closer on the roster for Wednesday's Wild Card Game against the Rays. Although Perez's role is undetermined, Cleveland feels he can still help to some degree.
Manager Terry Francona said he gave plenty of thought to keeping Perez on the staff.
"It wasn't a tough decision," Francona said. "You don't know how a game's going to go, whether it's nine, 10, 11, 12 innings. Given the right situation, he could find his way into a game. He's got 20-something saves. He's run into some tough outings lately.
"He's done everything with the right attitude, so I think we wanted to put him on."
Francona has avoided naming a specific ninth-inning arm and will continue to employ a closer-by-committee approach for the bullpen, which includes such options as Justin Masterson, Cody Allen and Joe Smith, among others.
Perez -- stripped of his role on Friday, in Minnesota -- threw off a mound on Sunday and pitched a simulated game on Monday to work on some mechanical issues. The right-hander finished the regular season with 25 saves, but he allowed six runs in his final two appearances and posted a 7.52 ERA over the final two months.
Francona noted that Perez willingly accepted a new role in order to help the Tribe's run to the postseason. After giving up four runs in the ninth inning of Thursday's 6-5 win over the Twins, Perez told Francona that he understood if he needed to make a change.
"He's wanted to be on a winner so bad," Francona said. "That day that everything culminated in Minnesota, he wasn't bailing. He just saw a team that had a chance to win, and he was recognizing that he was scuffling, and he said, 'I'll do anything. I'll pitch in the fifth or sixth.'"
Jordan Bastian is a reporter for MLB.com. Read his blog, Major League Bastian, and follow him on Twitter @MLBastian. This story was not subject to the approval of Major League Baseball or its clubs.