With Wild Card loss, curtain falls on Indians' season
With Wild Card loss, curtain falls on Indians' season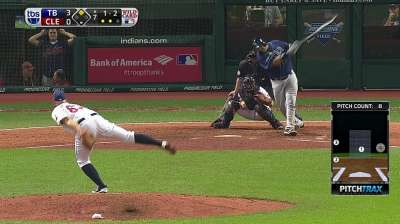 CLEVELAND -- This is not the ending the Indians had in mind for their storybook season. An improbable rise through the standings led to a rejuvenated franchise, a re-energized fan base and a raucous atmosphere at Progressive Field on Wednesday night.
It was not supposed to end with the Rays celebrating on the field in front of a stunned audience.
After five years of missing the postseason, the Indians earned the right to host the American League Wild Card Game, but the script took an unexpected turn. Rays right-hander Alex Cobb had his way with the Indians, sending the Tribe to a 4-0 loss that turned a promising fall into an early winter.
"This is just going to be used as motivation," second baseman Jason Kipnis said from his team's subdued clubhouse. "You always hear about playoff baseball. You always hear guys talking about it who have been there, but you never get to know what it's actually like until you experience it.
"Now that I've had a little taste of it, I want nothing more than to get back there."
The Indians completed one of the greatest one-year turnarounds in the organization's 113-year history but wound up heading home with just a taste of their ultimate goal. The future was on display -- whether it was Danny Salazar's blessed right arm or production from youngsters Yan Gomes and Lonnie Chisenhall -- but too many missed chances cost Cleveland its chance to move on.
After the Indians went from 94 losses last season to 92 victories this year, destiny seemed to be at play, especially considering that manager Terry Francona's former Red Sox team awaits the winner for the AL Division Series.
But a postseason reunion between Francona and Boston will have to wait.
Francona delivered a simple message to his team in the wake of the season's final game.
"I just told them that, as much as it'll sting tonight -- and it will, it hurts -- that once we get past that, for however long that takes, I want them to remember how much [for] me and the staff, it was an honor to go through the season with them, and [remember] how much we care about them," Francona said. "That's what I'll remember more than anything."
Cue the old refrain: There's always next year.
The Indians are already looking forward to 2014.
"Nobody expected us to do what we did this year," said setup man Joe Smith, who is eligible for free agency. "It just gives these guys coming in next year, all of us, whoever is here, it just gives you that much more incentive.
"When you get that taste, you want more of it. That was a lot of fun. It was a short ride, but this team is only going up."
Pitching before a sea of red-clad fans waving rally towels, Salazar threw a fastball that matched the electricity of the crowd. The rookie right-hander powered a 98-mph fastball by outfielder Wil Myers for a strikeout in the first inning, and followed that by dialing it up to 99 mph for a punchout of first baseman James Loney. That ended the opening frame and had the stadium roaring with delight.
Salazar appeared in control and overpowering, but he had a formidable foe in Cobb.
"[Cobb] didn't pitch like a young pitcher," Francona said.
Tampa Bay's right-hander used his unorthodox delivery -- lifting his front leg and holding it in the air for a moment before driving forward -- to confound Cleveland's lineup for the first few innings. The Indians finally mounted a legitimate threat in the fourth, when they loaded the bases with one out to set the stage for a critical confrontation between Cobb and shortstop Asdrubal Cabrera.
Two pitches into the at-bat, Cabrera rolled over a pitch, and the crowd let out a collective groan. Loney scooped up the grounder and snapped a throw to shortstop Yunel Escobar to initiate an inning-ending double play that quieted the ballpark.
That summed up the night for the Indians. Four of Cleveland's top hitters -- Michael Bourn, Nick Swisher, Kipnis and Cabrera -- combined to go 0-for-16. Gomes and Chisenhall collectively churned out five hits, but the Tribe ended the evening with nine runners stranded.
"I wish we could have got a base hit or something to put the momentum on our side," Gomes said. "But Cobb did a great job. He just pitched his way out of it."
In his season debut, back in April, Cobb held Cleveland off the board over 7 1/3 innings. It was long enough ago for the Indians to hope for better, but Cobb nearly matched that previous meeting with 6 2/3 shutout frames. He scattered eight hits, struck out five, induced weak contact and dodged his way through traffic all night.
"Just kind of ran into a buzzsaw today," Swisher said. "Man, in a way you kind of feel like you let the city down."
The Rays first broke through against the 23-year-old Salazar -- in Double-A Akron when this season began -- courtesy of a solo home run by Delmon Young in the third inning. No stranger to the October stage, Young deposited a first-pitch fastball into the left-field bleacher seats to start the inning.
Tampa Bay continued its push one inning later.
In the fourth, Loney came through with a single to right field, and Evan Longoria delivered next with a base hit to left. Two batters and one mound visit later, Desmond Jennings ripped a 1-0 fastball down the left-field line, deep enough to allow both Loney and Longoria to sprint across the plate to put the Indians in a three-run hole. That was more than enough to seal Cleveland's fate.
Salazar needed just 20 pitches to cruise through the first two innings but was worked for 39 more between the third and fourth. When he opened the fifth with a walk to Jose Molina -- after initially having the Rays catcher in an 0-2 count -- Francona turned to his bullpen.
Salazar, who ended his outing with four-plus innings, three runs, four strikeouts and two walks, is not satisfied with the way his season concluded.
"I'm just going to keep battling and working in the offseason," Salazar said. "I got a little bit of a taste, and I liked it."
There was not one player in the clubhouse who felt otherwise.
But despite the final score, this was a special night that capped off an unforgettable season.
"We did it. We made it," pitcher Justin Masterson said. "Yeah, everyone wants to go further, but you've got to start somewhere, and I think this will be great for next year."
Jordan Bastian is a reporter for MLB.com. Read his blog, Major League Bastian, and follow him on Twitter @MLBastian. This story was not subject to the approval of Major League Baseball or its clubs.