Rodriguez overwhelmed by birth of son
Rodriguez overwhelmed by birth of son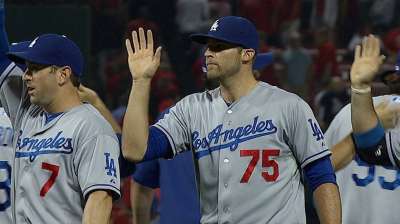 ATLANTA -- Paco Rodriguez rejoined the Dodgers on Wednesday after becoming a father for the first time Sunday.
Rodriguez missed Sunday's regular-season finale, as well as Tuesday's Dodger Stadium workout, to be in Tempe, Ariz., with girlfriend Chanel Brown for the birth of Eli Jacob Rodriguez.
It wasn't until Rodriguez was at the Phoenix airport waiting for his Tuesday flight to Atlanta that the enormity of the event hit him.
"I think I was in shock, but at the airport, I was by myself and I started crying with happiness," said the 22-year-old Rodriguez. "I texted my mom, I called Chanel. At the hospital, I was just in the moment, trying to keep it as simple as possible. But at the airport, it all kind of came out."
Rodriguez met Brown at the University of Florida when he was playing baseball and she was playing volleyball.
Rodriguez said he threw a 20-pitch bullpen session to stay sharp while in Arizona.
Ken Gurnick is a reporter for MLB.com. This story was not subject to the approval of Major League Baseball or its clubs.