McCann, Walden set to return from injuries for NLDS
McCann, Walden set to return from injuries for NLDS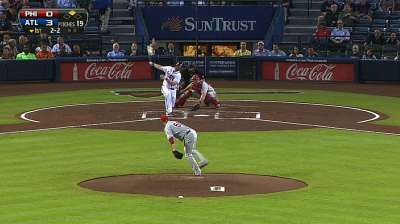 ATLANTA -- With the benefit of three days off, the Braves were relieved to get two key players nursing nagging groin injuries back to full health in time for Thursday's National League Division Series Game 1 against the Dodgers (8:30 p.m. ET on TBS).
Catcher Brian McCann sat out the final three games of the regular season after being pulled early in last Thursday's contest with a strained adductor muscle near his right groin, but the nine-year veteran will be in the lineup and back behind the plate working with Atlanta starter Kris Medlen on Thursday.
"I probably could've played that last [regular-season] game, but at the same time, you get another couple of days off to let that heal," McCann said. "It's feeling great."
Reliever Jordan Walden was also cleared for postseason play after traveling to Lake Buena Vista, Fla., on Tuesday to pitch one inning in an instructional league game, just his second inning of live action since Sept. 17. Walden missed three weeks with a strained groin and made four shaky appearances following his return in mid-September, but he was pleased that his trip to Florida gave the Braves enough confidence to keep him on the NLDS roster.
"Big-time progress," Walden said. "I'm getting more comfortable in my delivery, everything's kind of repeating and stuff. Everything felt good and my slider was really good."
Walden joins David Carpenter and Luis Ayala as the right-handed setup men at manager Fredi Gonzalez's disposal for the NLDS, having made 34 of his 50 appearances this season in the eighth inning.
Eric Single is an associate reporter for MLB.com. Mark Bowman is a reporter for MLB.com. This story was not subject to the approval of Major League Baseball or its clubs.