Well-rounded Victorino a revelation for Farrell
Well-rounded Victorino a revelation for Farrell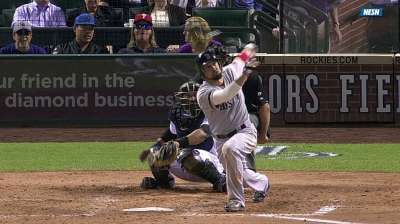 BOSTON -- Judging by the fact the Red Sox signed Shane Victorino to a three-year, $39-million contract over the winter, the team obviously thought he would be a good fit. But manager John Farrell acknowledged that Victorino had even surpassed his expectations.
"The way he plays the game, yes," Farrell said. "That's something that, in a short look, you can see the flash of defense or you can see the bat speed in an at-bat. The decision-making inside the game and how he responds to execute in those situations says a lot more about the guy that you can only get a feel for over time.
"That's to see him in different types of game situations where typically he's going to make the right decision and execute to that. And he's got a skill-set that's complete. He can run, he can throw, hits for average, hits for power. He's had a very good year for us."
Victorino has given the Red Sox dependability in the No. 2 spot in the batting order and in right field. And he has played through a barrage of nagging injuries, never complaining about them.
"He's added a grit to this team that we've seen repeatedly with the pain threshold in which he's played with," Farrell said. "He's been banged up for a lot of the year, but it hasn't forced him out of the lineup for really extended periods, and he gives us a well-rounded player both offensively and defensively in that 2-hole. He can play the small game. We've seen his ability to drive the ball out of the ballpark. He's a smart baseball player. He keeps things lively in the clubhouse, as I'm sure you all have seen. He's been a very good addition to this club."
Ian Browne is a reporter for MLB.com. Read his blog, Brownie Points, and follow him on Twitter @IanMBrowne. This story was not subject to the approval of Major League Baseball or its clubs.