Oct. 1 Byrd, Martin postgame interview
Oct. 1 Byrd, Martin postgame interview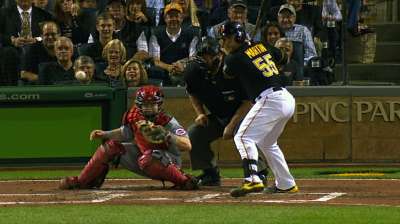 THE MODERATOR: Questions for Russell or Marlon.
Q. Russell, at what point did you feel Frankie was on and you were going to get seven innings out of him? You?
RUSSELL MARTIN: You never know what's going to happen. After the first inning, the jitters go away. Especially when you have the crowd like we had tonight, it's pretty special.
As soon as he got the first three outs, I felt like it was going to be a good day for him.
Q. Russell, Tony Sanchez had a great line yesterday. Was asked, You've been Francisco's number one catcher throughout the course of the last part of the season. Do you think Clint is at all playing with the notion of putting you behind the plate? They said they're not playing Russell $17 million to watch me make the biggest catch in PNC Park history. The joking aside, is that why they brought you here to come through in the clutch like that?
RUSSELL MARTIN: That's a great question. I'd like to think so. But, you know, tonight was just a night where I feel like it was a team win. Everybody played a part in it. Without the quality start that Francisco had, if we didn't win this game, no matter what I'd done doesn't matter.
I was happy with the way I performed today. Got a couple pitches in the zone to hit out of the park. For the most part I'm just proud of every guy that had the Pirate uniform on today. We really battled. The type of pressure situation like today I think is going to give us confidence as we go through these next games.
Q. Russell, you're familiar with hockey crowds, goalie chants.
RUSSELL MARTIN: The crowd was unbelievable. They were shouting Cueto for a little bit. Then he dropped the ball on the mound the next pitch, threw a fast ball high. I hit a home run. I don't know what was going on in his mind, in his head at that point. Definitely felt like the crowd had an impact on his psyche a little bit. Kind of lost rhythm for a little bit.
If you lose focus for a second, you make a mistake at this level, you're going to pay the price. He did today.
MARLON BYRD: The fans were huge tonight, the blackout, everybody wearing black. From the first pitch to the last pitch they were in it.
I haven't heard fans chanting someone's name in the playoffs since the Braves played the Phillies and everyone was chanting 'Larry.' If that got to Cueto or not, I don't know. I can't wait to see it when we get back.
Q. Can each of you talk about the approach coming up against Cueto, someone who has had so much success against the Pirates? Russell, the home runs you hit were pitches we've seen you hit a lot of your home runs on, up and over the plate. Same with Marlon.
RUSSELL MARTIN: Well, my approach was really I'm hitting seventh in the lineup, so I get to see how he's pitching attackers in front of him. I like to see how pitchers throw to Marlon. Sometimes I'll decide what I'm going to try and do depending on how they pitch to Marlon.
A lot of guys do homework. They watch video before games. I like to make in‑game adjustments, see what they're doing to the hitters in front of me.
So pretty much that was my approach. I saw he was throwing his cutter quite a bit. I think my first at‑bat he threw me five cutters. I think the 2‑1 or 2‑2, I don't remember the count, it was up in the zone, I put a good swing on it.
MARLON BYRD: I do the same thing. You do your homework before. The pitches he throws, throws his slider, change‑up. Most of the time he'll stay with fast ball, slider, fast ball, change‑up.
I saw Cueto was having a hard time with his fast ball location. I knew at some point he was going to use a slider or change‑up.
My first at‑bat, I tried to sit soft. He threw me a change‑up.
Q. Dusty Baker mentioned the big difference down the stretch was you, the acquisition of you coming to the team, the difference you made. Tonight it showed up.
MARLON BYRD: I appreciate that, Dusty.
When I came over here, I wanted to be a piece of the puzzle. I wanted to fit in. These guys let me in, welcomed me with open arms. It was so easy to fit in, so easy to slide in the lineup, hitting fifth against righties, fourth against lefties. A big thing. Just not the acquisition of me, but Justin Morneau changing lineup presence, it's tough pitching this lineup one all the way through eight, you have guys that can hit, can get the job done.
It was one of those things with this year, did a good job against Cincinnati. I played pretty good baseball down the stretch. But, you know, one of those things where being here and feeling comfortable really helped.
Q. You guys have both played before in big markets, New York, Boston, L.A. Is there a difference playing a team that isn't used to having success in the clubhouse?
RUSSELL MARTIN: People have been waiting 20 years for this opportunity. You can definitely feel the energy was special tonight. I don't know if it's because of the long wait. But I know the guys inside that clubhouse are pretty excited right now. They're pretty stoked to have this opportunity. We got a good squad. We're going to keep going out there, keep grinding, keep fighting, and hopefully we can play deep into this post‑season.
MARLON BYRD: I think it was growing pains the last two years, this team learning how to win. The second half of the past two years, it wasn't about any negativity, it was about learning. Coming into this year, being ready.
You know, AJ taking a lead, Russ taking a lead, making acquisitions at the right time, the right players, the right pieces.
Over a three‑year period things fell into place. This team believed. When he came in here from the Mets, you could see it, they could pitch, the bullpen was amazing. Every time you played them, if you were winning or you were ahead, you felt like they were never out of it.
Right now, the way that this team's playing, all of us, come together as a family. It's really showing.
Q. Russell, what was Liriano's mindset leading up to the start? Slider, just played like a true wipe‑out weapon today. What made that so effective?
RUSSELL MARTIN: I mean, he seemed pretty calm warming up. Looked like he was in control. Once again, I was pretty excited before the game. I wasn't really nervous. I was more excited.
Francisco didn't really show that much emotion. Just seemed like it was another game for him. I'm sure inside he had some butterflies and stuff.
But he's had that slider pretty much the whole year. Maybe one or two starts where he kind of struggled a little bit. For the most part that's been his bread and butter. That's his strike‑out pitch, that slider. Then you combine it with the change‑up that looks like a fast ball, a fast ball that can reach 96 miles an hour, those combination of pitches work well for him.
It's a tough at‑bat against any hitter, doesn't matter if you're a righty or lefty. You have to have a pretty good approach and almost eliminate some pitches if you want to have a solid game against him. Even then it's still tough.
THE MODERATOR: Thank you.
FastScripts by ASAP Sports This story was not subject to the approval of Major League Baseball or its clubs.