Oct. 1 Clint Hurdle postgame interview
Oct. 1 Clint Hurdle postgame interview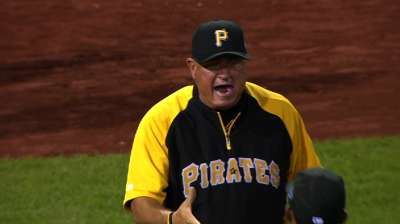 THE MODERATOR: Questions for Clint Hurdle.
Q. Can you talk about in the fourth inning when Choo and Ryan Ludwick were able to reach with no outs, Liriano was able to put a foot down, you talked in the past about three‑out sequences that have a pretty big impact on the way the game turns out, was that the way it was?
CLINT HURDLE: I believe so. I believe that was one of those circumstances that happened in the game when momentum changed uniforms. Looked like they got some. They were out there. They had the guys they've been counting on all year to go out. We had the guy on the mound we were Actually pitched out the stretch. With runners in scoring position. Man, he was good tonight. The change‑up effectively to right hand, the slider played well to the left‑handers. He used the two‑seamer for the most part. You talk about a guy pitching a big game for a franchise, for his buddies in there, excellent from Francisco.
Q. Largest crowd in this park's history. Was there any more of a buzz than you've heard?
CLINT HURDLE: '56, it's hard for me to remember at that time, it was electric. It was the biggest buzz. This is the newest, biggest buzz. This is still ringing in my ears. When we took the field for the announcements, the opening announcements, they let it rip. The park showed up tonight. Our fan base showed up tonight. That rotunda was jammed. And they kept it going all night long.
If our city ever thinks they don't make a difference, all they got to do is watch the tape from tonight's game. We felt confident going in. They pushed it forward even more from start to finish of that game. Very special evening personally. Obviously for everybody involved and tied to this.
Q. With all the expectation and emotions placed on this game, how gratifying is it for your club to produce the kind of great baseball it did tonight?
CLINT HURDLE: Well, yeah, it is gratifying. We're confident we could do it. We didn't talk about an execution game or elimination game. We talked about one and run to solution. In the meeting we had before, all we talked about was winning the game. It was about winning the game, taking it to the starter, making him work, he's a good pitcher, got experience, try to get some balls elevated, show some patience. Everybody that stepped in the box showed up well. Frankie is making pitches. We played good defense. We did everything you needed to do to meet the demands of the game tonight.
Q. When the fans were chanting Cueto's name over and over again, did your eyes tell you it made an impact?
CLINT HURDLE: I think it perks our guys up. I can't speak to anybody else. I haven't heard that. That's a hockey move right there. That's for the goalie. That's when I took from it. It's a sign that you got a chance to get something good done. You got a chance to push somebody maybe off the mound, out of the goal. Very similar circumstances.
But our crowd, I mean, the blackout, the towels, all of it, the electricity, it's something I don't think anybody that was here tonight will forget for a long, long time.
Q. I think the first 12 sliders Liriano threw to lefties, eight were swings and misses. We've talked a lot about that pitch. How electric was that tonight? Seemed like it neutralized many.
CLINT HURDLE: It did. Out of the chute it did. They have a very good club offensively. They can spark a lot of different ways. When you can neutralize Choo, Votto and Bruce, you're going to have a chance to win. Other people can show up and beat you. Frazier had a big bat against us. Ludwick last year showed the ability.
Bottom of the order. When you can set down those guys and keep them off balance, it obviously plays well for you to give you a chance to go ahead and work through the lineup and get in a good position to win the game.
Q. You talked all season about your 'one game at a time, one pitch at a time' approach, staying locked in throughout the game. I know this is the ultimate test of that philosophy. How tangible of a dividend is this win to keep on and playing?
CLINT HURDLE: It's one of the things you've got to do to continue to move the organization forward, for this team to move forward. You have to keep knocking down things like this.
There are mile markers along the road to get to the place you want to get to. There's nobody in there that doesn't want to win the World Championship for the Pirate's organization. There's things you have to get through to play a team like the Reds three games over the weekend, match up in this game tonight. Our focus, our preparation was right where it needed to be. Our ability to go out and play and produce prime time. We were able to do that across the board, everybody involved.
Thank you.
FastScripts by ASAP Sports This story was not subject to the approval of Major League Baseball or its clubs.