Avicii's Fan Cave concert sets playoff stage
Avicii's Fan Cave concert sets playoff stage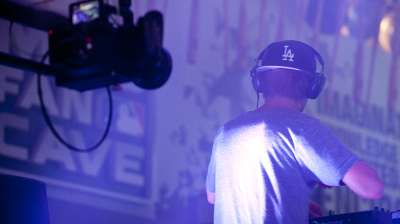 NEW YORK -- The 2013 postseason is under way, and it was introduced by the world's most hottest DJ. Avicii, the Swedish sensation on top of Billboard's Dance/Electronic Songs chart, performed his hits in an explosive Major League Baseball postseason party in the hours leading up to Tuesday night's Pirates-Reds game.
"It's appropriate to set the postseason off with fireworks, and this performer is a worldwide icon, so what better way than to celebrate beginning a postseason with a pop-up concert like this?" MLB executive vice president/business Tim Brosnan said Tuesday night while watching the hand-pumping crowd inside the MLB Fan Cave on Fourth Street and Broadway.
"If you look, it's the kind of fan base we want to attract. This is just the physical presence. I mean, we're going out to millions and millions and millions of people, in the social space, reminding them that the postseason is starting tonight."
Avicii, aka Tim Bergling, wore a Dodgers cap backward as he mixed the music on the spot where Cave Dwellers sat on a couch all season and watched every game. The location was secret, as Avicii hinted during the day and then finally revealed his concert spot just before the event. There was an immediate rush of 200 fans, the max allowed.
Avicii just hit the charts with six tracks from his new No. 1 Dance/Electronic album "True," and that included "Hey Brother," which debuted at No. 15. Call it club music for 10 clubs. It was all kind of fascinating for the artist, who tweeted "booya" with a picture of the World Series trophy that sat beside him during an interview.
Booya pic.twitter.com/aDN0lHmu7w

- Tim Bergling (@Avicii) October 1, 2013
"Can I take it home?" he asked with a smile.
Then he was off to Los Angeles. Whether the trophy makes its way there remains to be seen.
Later this postseason, MLB.com will release extended Avicii music from the Cave Concert plus an interview. You can expect to hear it fill postseason ballparks this month as well. As for the reception so far to his new music, he said it felt great.
"I was always confident in the music, and I think my manager and my team were confident in the music ... from the start," Avicii said. "Once people actually listen to the music, they're going to find that out -- it's just not me trying to do something goofy and weird; it's actually just what I set out to do and the kind of music I want to listen to.
"House music is always where I began -- it's always my number one passion -- but those tracks are also made for the dance floor. ... But these other songs are all about the melodies. ... You're able to listen to it wherever you are."
On Tuesday night, that was in the middle of hustle and bustle in Manhattan, as yellow cabs streaked by the open doors and pedestrian traffic stopped and hovered at the now-familiar sounds. Yes, that was really Avicii inside, whipping the crowd into a frenzy.
It was an appropriate way to start a month that will be all about crowds in a frenzy.
"It was even the lead-up to the postseason that was so terrific," Brosnan said. "We started with the 163rd game. To start any postseason with three win-or-go-home games, anybody would kill for that. And we have all these great stories, whether it's Cleveland or Cincinnati or Pittsburgh, I mean there really is, it has all the makings for a really interesting postseason. Now we just have to let the best baseball players in the world play baseball."
Jacqueline Parkes, MLB senior vice president of advertising and marketing, watched as the concert turned into a party to celebrate the season-long viewing of their chosen fans. Then it was time to focus on Pittsburgh, where the National League Wild Card Game presented by Budweiser got under way for a rowdy and hungry crowd.
"There is no game like baseball," she said. "There is no drama that's written that is as intense, as passionate, that can take you to the highs and lows of postseason baseball. I'm excited for it to get started. It's going to be 140 hours of absolutely intensity, and I just can't wait to see what TBS and FOX and MLB Network do to bring it to life this year, and who will win the trophy at the end of it all."
Mark Newman is enterprise editor of MLB.com. Read and join other baseball fans on his MLB.com community blog. This story was not subject to the approval of Major League Baseball or its clubs.