Griffin not on A's postseason roster for now
Griffin not on A's postseason roster for now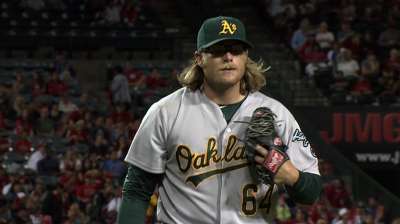 OAKLAND -- A.J. Griffin threw exactly 200 innings during the regular season, and there's a chance he won't pitch another until next year.
The second-year right-hander was a considerable favorite to be awarded a spot in the A's postseason rotation, but mild tendinitis in his right elbow has forced him off Oakland's playoff roster -- at least for the first round -- against the Tigers, which will get under way on TBS on Friday at 6:30 p.m. PT.
Taking Griffin's spot is Dan Straily, who went 10-8 with a 3.96 ERA and led all American League rookies with 124 strikeouts in 27 starts.
Griffin struck out 171 batters on his way to a 14-win season and a 3.83 ERA. He started Game 4 of last year's American League Division Series as a rookie, holding the Tigers to two runs in five-plus innings.
"I'm definitely really bummed, but the guy who's going in my spot is really good, too," Griffin said. "We have good options there. I feel good about our team no matter whom we run out there. If he's got an A's uniform on, he's pretty good probably."
Griffin said he's felt discomfort during his last two to three starts, though he's gone 4-1 with a 3.75 ERA over his last six outings. His ability to last deeper into games, however, has diminished, and there haven't been enough signs of his health returning for A's manager Bob Melvin to continue sending him out to the mound.
"It's actually getting worse at times," Melvin said. "He has had to come out after five or six innings, too. At this point of time in the season, we'd like to see it getting considerably better each and every time, and it hasn't, so we feel like he needs that break."
This isn't the first time Griffin has dealt with tendinitis, he said, but rather something he goes through every season -- typically toward the end, when he has several months to rest anyway. There isn't great severity to the injury, as X-rays confirmed that there isn't any structural damage to his arm.
Melvin said Griffin won't pitch until the soreness has subsided. While the amount of time that will take is unclear, Griffin said he hopes to be fresh and ready should the A's need him in the later rounds of the playoffs.
"That's up to them," Griffin said. "I'm just going to do what they tell me to. They've been working on stuff like this for a long time. They know what they're doing. I'm just putting my faith in the training staff and the coaches' decisions and everything like that and doing whatever I can to get back out there as soon as possible."
Jeff Kirshman is an associate reporter for MLB.com. This story was not subject to the approval of Major League Baseball or its clubs.