Punto, Hairston improving as roster decision nears
Punto, Hairston improving as roster decision nears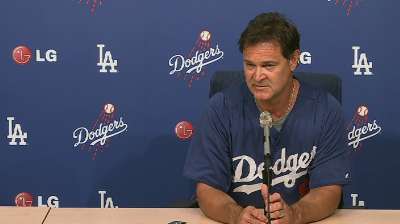 LOS ANGELES -- Dodgers infielder Nick Punto and utility man Jerry Hairston Jr. appeared to be in better health Tuesday during a workout at Dodger Stadium in preparation for Game 1 of the National League Division Series in Atlanta, Thursday at 5:30 p.m. PT on TBS.
Punto, who did not play in the final series of the season because of an in-grown toenail on his right foot, moved well while fielding ground balls and taking batting practice.
"I think he's OK," said manager Don Mattingly. "I assume he's going to be ready."
Hairston has not played since Sept. 25 because of a sore back, but was able to take batting practice and shag fly balls in the outfield.
While a healthy Punto is a lock to make the NLDS roster, Hairston is on the bubble in part because of the acquisition of
Michael Young
.
"We'll see," Mattingly said when asked about Hairston's status for the NLDS. "We're still going over the roster and seeing how everything fits with who we have, don't have, what guys can do, can't do and then trying to put our best club together."
Hairston struggled at the plate in September, going 2-for-29 (.069) with five strikeouts.
"That's part of the equation and our conversations with the roster," Mattingly said. "There's going to be some guys that aren't on the roster that have been a part of what we've done this year."
Hairston gives the Dodgers value in the outfield, though, with Matt Kemp ruled out for October and Andre Ethier uncertain for the NLDS because of a lingering ankle injury.
Ken Gurnick is a reporter for MLB.com. Austin Laymance is an associate reporter for MLB.com. This story was not subject to the approval of Major League Baseball or its clubs.