Cole could come out of 'pen in NL Wild Card Game
Cole could come out of 'pen in NL Wild Card Game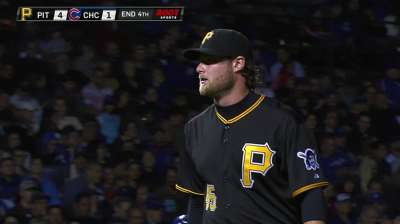 PITTSBURGH -- There was never any real doubt who was going to get the ball to start Tuesday night's National League Wild Card Game. Manager Clint Hurdle tweaked the Pirates' rotation so Francisco Liriano would be ready to go for Pittsburgh's first postseason game since 1992.
What does remain in question is how, if at all, Gerrit Cole will be utilized.
Cole became an option for Hurdle when the Pirates beat the Reds on Saturday to clinch the ability to host this one-game playoff. The rookie right-hander was slated to start Sunday's game in Cincinnati, but when that game was rendered meaningless, he was scratched, making him ready, willing and able for work on Tuesday.
Cole could play a role in one of two ways. If Liriano falters early, Hurdle could have a quick hook knowing he has a fresh Cole in the bullpen. As impressive as Liriano has been here at PNC Park (8-1, 1.47 ERA) and overall, when he's been off, it's often been apparent early in the game. His 4.50 ERA in first innings in 2013 is his worst ERA by inning. If there are those early warning signs on Tuesday, Cole would be a very good fallback option.
As much fun as it might be to see Cole come out of the bullpen for an inning, firing triple-digit fastballs, that's a highly unlikely scenario. If Liriano pitches as well as the Pirates expect him to, and he goes deep into the game, then Cole isn't likely to make an appearance. Instead, he would be the probable starter for Game 2 of the National League Division Series against the Cardinals on Friday afternoon in St. Louis. Should he pitch on Tuesday and the Pirates advance, he could be moved back to Game 3, which would be back in Pittsburgh on Sunday.
The only other scenario where Cole could be called upon on Tuesday is if the game goes extra innings, where he potentially would have the ability to throw multiple frames, especially compared to the Pirates' relief corps.
"That would be the way we're anticipating going," Hurdle said about not using Cole if Liriano is effective. "The other option is if we get in extended innings, he could still come into play."
Tom Singer is a reporter for MLB.com and writes an MLBlog Change for a Nickel. He can also be found on Twitter @Tom_Singer. Jonathan Mayo is a reporter for MLB.com and writes a blog, B3. Follow Share This