Maddon comfortable with well-rested bullpen
Maddon comfortable with well-rested bullpen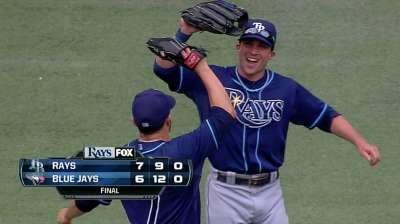 CLEVELAND -- An extra benefit of David Price throwing a complete game in the Rays' 5-2 win over the Rangers on Monday was it gave the bullpen an extra day of rest heading into Wednesday night's American League Wild Card Game against the Indians at 8 p.m. ET on TBS.
Rays manager Joe Maddon said it's a nice feeling not having to worry about overtaxing any of his bullpen arms in a must-win game against the Indians, as his relievers all had a full two days' rest.
"The one thing as a manager you do more than anything on a daily basis is worry about your bullpen," Maddon said. "When I wake up in the morning, I think about the bullpen. When I'm riding my bike, I think about the bullpen. Because that's really the group that's going to get you to the end of the year and win it."
Maddon said the bullpen has been a strength for the Rays this season, as his relievers combined for a solid 3.59 ERA. He also pointed to five relievers he can count on when the team is ahead or tied, labeling them as "even or ahead guys."
There's closer Fernando Rodney (3.38 ERA in 66 2/3 innings), setup man Joel Peralta (3.41 ERA in 71 1/3 innings), right-hander Jamey Wright (3.09 ERA in 70 innings), left-hander Jake McGee (4.03 ERA in 62 2/3 innings) and left-hander Alex Torres (1.71 ERA in 58 innings).
"I have a lot of faith in all these guys," Maddon said. "You talk about Fernando and the wonderful job he always does. And Joel Peralta might be the most unsung relief pitcher in both leagues if you really break down his numbers. Jake McGee what he can do to both sides of the plate. Jamey Wright making it to the playoffs for the very first time, we couldn't have done it without him. And look what Alex Torres has done. So it's five solid even or ahead guys."
Rhett Bollinger is a reporter for MLB.com. Read his blog, Bollinger Beat, and follow him on Twitter @RhettBollinger. This story was not subject to the approval of Major League Baseball or its clubs.