Schumaker prepared to man center if Ethier cannot
Schumaker prepared to man center if Ethier cannot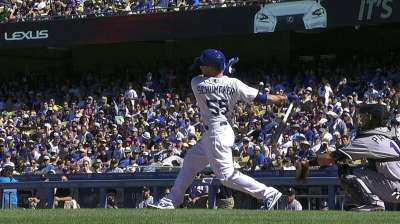 LOS ANGELES -- Skip Schumaker is expected to start in center field for the Dodgers in Game 1 of the National League Division Series against the Braves, 5:30 p.m. PT Thursday on TBS, if Andre Ethier is unavailable due to a lingering ankle injury.
Schumaker started 17 games in center this season, third most on the team behind Ethier (70) and Matt Kemp (68), who has been ruled out for the postseason because of his own ankle injury.
"I haven't been told anything yet," Schumaker said Tuesday after the Dodgers worked out at Dodger Stadium. "I'm going to be ready to play just like everyone else on our squad. If I so happen to be in center field, I will be ready."
Schumaker is no stranger to playing center field in October, which gives him and the Dodgers confidence heading into Game 1 at Turner Field. In addition, the veteran is 4-for-9 (.444) in his career against Atlanta starter Kris Medlen.
"I've started postseason games before, so I don't think that's going to be a problem," said Schumaker, who won the World Series in 2011 with the Cardinals. "I've been fortunate enough to play there in some big games. I've been out there before, which is good experience going into this situation. I feel good enough to be able to contribute."
"We know with Skip out there in center field we have a proven winner," said catcher A.J. Ellis. "He knows what he's doing. He knows what it's like on the big stage. I'm excited for Skip and the opportunity if it's there for him."
Schumaker isn't the Dodgers' only option in center field.
Yasiel Puig primarily played right field during the regular season, but made six starts in center. Rookie Nick Buss made one start in center and traveled with the Dodgers to Atlanta after Tuesday's workout, though he's likely with the team only as an option if Ethier is ruled out for the entire NLDS. Corner outfielder Scott Van Slyke, another rookie, shagged fly balls in center during Tuesday's workout, as did Dee Gordon, a shortstop who has never played the outfield in the Majors.
"We'll continue to get some guys comfortable out there so we have a few more options," manager Don Mattingly said.
Outfielder Alex Castellanos appeared in eight games with the Dodgers this year, but was not with the team for Tuesday's workout.
Ken Gurnick is a reporter for MLB.com. Austin Laymance is an associate reporter for MLB.com. This story was not subject to the approval of Major League Baseball or its clubs.