Red Sox keeping close tabs on AL Wild Card Game
Red Sox keeping close tabs on AL Wild Card Game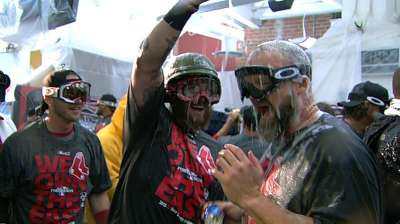 BOSTON -- When the Rays and Indians play the American League Wild Card Game on Wednesday at 8 p.m. ET on TBS, the Red Sox will have both personal and professional interests.
From a personal standpoint, the players will watch because they are big fans. Then, of course, there is the professional implication.
The winner of that game will be at Fenway Park on Friday for Game 1 of the AL Division Series at 3 p.m. on TBS.
"I was talking to my father about this last night," said Jake Peavy. "The way I watched the [Rangers-Rays Game No. 163] was a much different way than he and my mother and brother did. I'm watching pitch sequences and how guys are setting up and what guys are doing in different situations. And that's certainly the way I think we'll all watch the game tomorrow night. I know we're going to face some of those hitters, so I watch it a lot like I watch homework tapes."
"As a fan of the game, I'll watch it," said lefty Craig Breslow. "I don't think it will affect the way we prepare. It's pretty easy to get wrapped up in the dramatics of postseason baseball. At the same time, we need to concentrate on continuing to do what we need to take care of internally."
There are also individual stories within the game that will be of interest to different people.
For example, Indians manager Terry Francona is one of Red Sox manager John Farrell's closest friends in baseball.
Farrell and Francona have both been too busy with their own teams to have much communication of late.
"A congratulatory text," Farrell said. "It's been minimal. Doesn't mean we don't follow it close. But they're on a very good run."
Farrell was the Indians' farm director for five years before becoming Francona's pitching coach in Boston in 2007.
"There's a lot of quality and talented people over there," Farrell said. "To see it come together with a chance to advance after tomorrow night, I think because you have past experiences with many people, you want the best for them. There would be an incredible amount of side stories if we do meet up with them in the Division Series."
The Red Sox will spend a good chunk of Thursday scouting their next opponent.
"There's a component of the preparation that deals with who your opponent will be," said Breslow. "More than that, it's kind of making sure that we're prepared the way we can control. It'll be nice to look at some scouting reports and see what kind of hitters we're preparing for. Our starting pitching has been effective against pretty much anybody. We've got the utmost confidence in the bullpen's ability to get guys out regardless of who they are. It will be nice for it not to be a surprise, but I don't think it's necessarily imperative to the success of the team."
Ian Browne is a reporter for MLB.com. Read his blog, Brownie Points, and follow him on Twitter @IanMBrowne. This story was not subject to the approval of Major League Baseball or its clubs.