Reds' curtain closes with Wild Card loss in Pittsburgh
Reds' curtain closes with Wild Card loss in Pittsburgh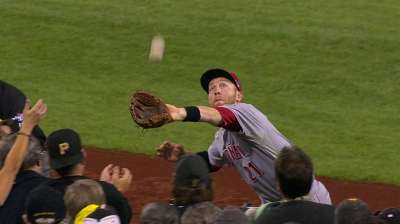 PITTSBURGH -- Three times in the past four seasons, the Reds have reached the playoffs. What have these three Octobers wrought for the club? It's been mostly pain and a lack of fulfillment.
This October lasted only one day, and one game. Steamrolled in every way by the Pirates during a 6-2 defeat in the do-or-die National League Wild Card Game on Tuesday night at PNC Park, the 90-win Reds are one and done, their season is completed again sooner than expected.
A somber visitors' clubhouse reflected what's become a familiar feeling of postseason disappointment.
"I feel like the city of Cincinnati really deserves better," second baseman Brandon Phillips said. "During the season, there was no point to [people who] say negative things. But now, since the season is over, we deserve everything. We choked. I don't care how my teammates feel about what I am saying now, because it's truth. Either you win or you go home. And I'm going home. The last place I want to be is on my couch."
Pirates lefty starter Francisco Liriano often had his way with the Reds over seven innings, allowing just four hits that included Jay Bruce's RBI single in the fourth inning.
Ryan Ludwick accounted for three of Cincinnati's six hits in the game, but third and fourth hitters Joey Votto and Phillips combined to go 0-for-8 and failed to hit a ball out of the infield. They were 0-for-6 with runners in scoring position.
"I choked," Phillips added. "I didn't do [anything] to make the team win."
Responsibility for the loss could be spread around multiple places. Reds ace Johnny Cueto, who looked good in his two final regular-season starts after missing 2 1/2 months with a strained right lat muscle, lasted 3 1/3 innings and allowed four runs (three earned), with seven hits and a walk.
"Well, he had good stuff. He was getting [the ball] up," manager Dusty Baker said. "You know, all the balls they hit were up, over the heart of the plate."
Cueto came in 8-2 with a 1.90 ERA in 13 career starts at PNC Park, but he had never encountered the raucous atmosphere that existed on Tuesday. A ballpark-record crowd of 40,487, starved for postseason play since Pittsburgh's last foray in 1992, provided a loud home-field advantage.
The tide turned quickly against Cueto and Cincinnati in the bottom of the second inning. Marlon Byrd, who came in 7-for-12 lifetime against Cueto, led off by hitting a 2-1 changeup into the left-field seats for a homer that had the stadium rocking.
Fans did not let that momentum stop. They chanted "Cue-to, Cue-to!" in unison, the way they might taunt the opposing goaltender at a Penguins hockey game. Almost on cue, Cueto dropped a baseball he was rubbing on the mound.
"I don't listen to them," Cueto asserted via translator Tomas Vera. "It's like Opening Day or any other game. That doesn't scare me."
But moments later, with one out, another 2-1 pitch left the field when Russell Martin hit the first of his two homers in the game to left field for a 2-0 Bucs lead. Two more hits followed with two outs, and it took a fantastic diving catch into the camera well in foul territory by third baseman Todd Frazier to end the inning.
"I felt good. I felt aggressive. This is part of the game," Cueto said. "Two pitches, two home runs. I lost the game. Thank God, I'm healthy right now."
Pittsburgh kept the pressure on Cueto in the third inning. Andrew McCutchen led off with a grounder that went for an infield hit. A sharply hit one-out grounder by Byrd was booted by shortstop Zack Cozart for an error and led to Pedro Alvarez's sacrifice fly for a three-run deficit.
After Liriano retired the Reds nine up and nine down, without a ball leaving the infield, Cincinnati's offense showed some life in the fourth inning. Leadoff batter Shin-Soo Choo was hit by a pitch, and Ludwick lined a single to left field. With two outs, Bruce snapped an 0-for-12 career mark against Liriano by slashing an RBI single to left field. Frazier just missed a homer that would have made it a one-run game when his drive to left field hooked foul. He struck out to end the inning instead.
"I think it's more frustrating," Bruce said of the way 2013 ended. "Having good seasons and winning in the regular season is all fine and dandy. But you play and you win to win championships. We didn't get it done. We have to figure out a way to do a better job."
Cueto did not get through the fourth inning, pulled after Marte reached on a one-out double to left field. Sean Marshall did not retire any of his three batters and loaded the bases. J.J. Hoover took over to face Byrd and induced a would-be routine double-play grounder toward second base. Uncharacteristically, Phillips had the ball bounce off his chest and was left with only a force play as another run crossed and essentially put the game away.
Martin's second homer of the game, off of Logan Ondrusek to lead off the Pirates' seventh, was the topper. Choo hit a one-out homer off of a fan in the first row of the right-field bleachers against Tony Watson in the top of the eighth, which was upheld via umpires' replay review -- one of the few breaks during Cincinnati's evening.
In 2010, the Reds reached the postseason for the first time in 15 years only to be swept in three games by the Phillies in the NL Division Series. Two years later, a 97-win Cincinnati club took a 2-0 lead on the road in the NLDS against the Giants, but the Reds were swept in three games at home to be eliminated.
The Reds have fallen well short of their goal again. The postseason ended much too soon, especially for a team that many felt before the season had more than enough talent to reach the World Series.
"It's unfortunately been a bit like déjà vu," Votto said. "It's really disappointing. It's such a quick turnaround. There's so much hope going into this game."
Combined with the regular season, Cincinnati now heads into the offseason with a season-high six straight losses -- including four in a row to Pittsburgh. But Tuesday's game was the one the Reds really had to have, and they'll spend the winter coping with not advancing in the playoffs.
"They beat us on both sides of the ball. They just played better," Bruce said. "They pitched better. They hit better. They were at home. There's nothing really else to say. It was, in my opinion, pretty apparent the whole game."
Mark Sheldon is a reporter for MLB.com. Read his blog, Mark My Word, and follow him on Twitter @m_sheldon. This story was not subject to the approval of Major League Baseball or its clubs.