Baker keeps Ludwick in No. 2 spot for Wild Card
Baker keeps Ludwick in No. 2 spot for Wild Card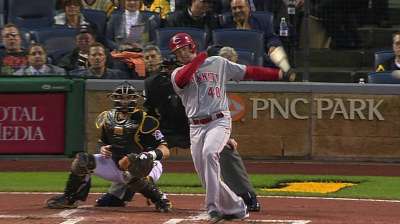 PITTSBURGH -- Reds left fielder Ryan Ludwick was used in the No. 2 spot of manager Dusty Baker's lineup only three times in the regular season. It happened to be the final three games of the year vs. the Pirates.
The results weren't positive. Ludwick went 0-for-9 with a walk, and the Reds went winless in those games. For Tuesday's National League Wild Card Game at Pittsburgh, Baker kept Ludwick in the second spot -- for multiple reasons, some of which have to do with scenarios in the later innings.
"Late in the game, I usually take him out, and the guys I replace him with are No. 2 hitters," Baker said. "I can have the choice of either putting them right in that spot or in the ninth spot. Then it's not as important who hits before Joey [Votto], if it's a pitcher when I double-switch, as it is who is hitting behind Joey."
Ludwick had three of the Reds' six hits, including two doubles, in Cincinnati's 6-2 season-ending loss to Pittsburgh.
Ludwick, who returned in September after missing four months because of right shoulder surgery, is often lifted in the late innings in favor of Chris Heisey or Derrick Robinson. Speedy rookie Billy Hamilton was also an option to pinch-run for Ludwick.
Brandon Phillips was put behind the left-handed Votto in the No. 4 spot, and lefty hitter Jay Bruce was slotted fifth. Pittsburgh started lefty pitcher Francisco Liriano and had lefties Tony Watson and Justin Wilson in the bullpen.
"Plus, Brandon has been so good in the No. 4 hole," Baker said. "Especially against these guys, you've got to break up Jay and Joey, because they have two of the best left-handers around -- they can bring in one and take care of both of them. Even though Jay has hit better against left-handers, he hasn't hit those guys -- very few have."
With the exception of ninth, where the pitcher hits, the second spot was the least productive in the regular season for the Reds, with a .228 average and a .281 on-base percentage. Baker has tried Phillips, Zack Cozart, Heisey and Todd Frazier, among others.
"We've had a problem with that No. 2 hitter. We've tried about everybody," Baker said. "Brandon didn't do as well there as we thought either. When I had Ludwick at four, he was really frustrated he was not quite himself. They were walking Joey intentionally or unintentionally. Every time he'd leave somebody on base, he'd get more and more frustrated. I could see it."
In previous meetings against Liriano over his career, Ludwick was 4-for-9.
Mark Sheldon is a reporter for MLB.com. Read his blog, Mark My Word, and follow him on Twitter @m_sheldon. Anthony Castrovince is a reporter for MLB.com. Read his columns and follow him on Twitter at @Castrovince. This story was not subject to the approval of Major League Baseball or its clubs.