Mesoraco had hoped to contribute in playoffs
Mesoraco had hoped to contribute in playoffs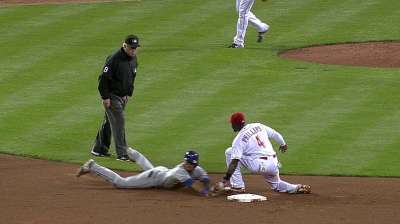 PITTSBURGH -- At this time last year during the playoffs, Reds catcher Devin Mesoraco was more of a spectator than an active participant. Mesoraco struggled throughout his rookie season of 2012, hardly played in September and was left off of the postseason roster in October in favor of Dioner Navarro. He remained with the club as an extra player in case he needed to be added.
Mesoraco did not start Tuesday's National League Wild Card Game, because Ryan Hanigan usually catches starting pitcher Johnny Cueto. But Mesoraco did enter behind the plate during the seventh inning and went 0-for-1 with a popup before the Reds fell to the Pirates, 6-2.
"I still feel like I was part of the team last year. At the same time, I wasn't able to play," said Mesoraco, who hails from nearby Punxsutawney, Pa. "I think it's definitely more exciting for me to be out there playing than it is sitting on the bench cheering on the guys. I'm definitely looking forward to being out there and help getting us some playoff wins."
Although he batted .238 with nine home runs and 42 RBIs in 103 games, Mesoraco was still perhaps the Reds' most improved player this season -- especially with his catching. He caught two of the pitching staff's five complete games and seven of the 17 shutouts.
"For me, I feel like defensively was my biggest improvement," Mesoraco said. "The second half, there hasn't been too many wild pitches or passed balls or anything that got by. My throwing improved a lot. That's my biggest concern -- my catching."
Mark Sheldon is a reporter for MLB.com. Read his blog, Mark My Word, and follow him on Twitter @m_sheldon. Anthony Castrovince is a reporter for MLB.com. Read his columns and follow him on Twitter at @Castrovince. This story was not subject to the approval of Major League Baseball or its clubs.