Fans invited to watch Wednesday's intrasquad game
Fans invited to watch Wednesday's intrasquad game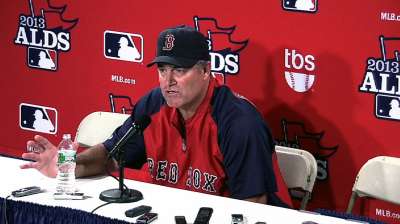 BOSTON -- Clay Buchholz or Jake Peavy will throw the first pitch on Wednesday at 3:07 p.m. ET from the mound at Fenway Park.
There might even be a national anthem just before that. There will be an umpire behind home plate. There will be a Boston batter in the box. There will be fans in the stands. The smell of hot dogs will be in the air.
The Red Sox don't actually have a game on Wednesday, but manager John Farrell's goal is to create as realistic an atmosphere as possible.
In an effort to help his players combat rust before Game 1 of Friday's American League Division Series at Fenway Park -- which starts at 3 p.m. on TBS against either the Indians or Rays -- Farrell is organizing an intrasquad game.
Fans can get a chance to take in the mid-afternoon action. The Red Sox are opening Gate D for season ticket holders, children, students and neighbors at 2 p.m. There is no admission for entry. Concession stands will be open.
"Inviting members of the Red Sox family -- our season ticket holders, area students, children, and neighbors -- to Fenway Park for this opportunity is a small way for us to thank them for their support this season," said Red Sox president/CEO Larry Lucchino. "This is a special time and a special team, and we hope some in our community will be able to see our players in this casual, informal workout setting."
Though the Red Sox won't mind having an audience, they will take an all-business approach to the day.
"We'll try to get some, or as close to game speed as we can reproduce here," Farrell said. "Certainly we can't reproduce any kind of environment that other teams going through a normal game will experience, but it's also a chance for our players that are dealing with some things from a physical standpoint to get ahead of them as best possible. And [it's to] get everybody primed and ready to go for Friday."
Buchholz and Peavy aren't expected to pitch until Games 3 and 4, so this is a way to help the two righties stay sharp.
"We're going to stay sharp," said Peavy. "A little more intense than a bullpen [session] would be and we give our hitters a little bit of a live look. Obviously hitting is timing and pitching is disrupting that timing. When you don't get to do that for three or four days, sometimes you lose some of that."
Jon Lester and John Lackey are expected to pitch the first two games, though Farrell won't formally reveal his rotation plans until Wednesday at the earliest.
Several relievers will likely also see work in the intrasquad game. Farrell will leave it up to the individual hitters whether they want to face teammates.
Ian Browne is a reporter for MLB.com. Read his blog, Brownie Points, and follow him on Twitter @IanMBrowne. This story was not subject to the approval of Major League Baseball or its clubs.