Tragic event made Red Sox 'Boston Strong'
Tragic event made Red Sox 'Boston Strong'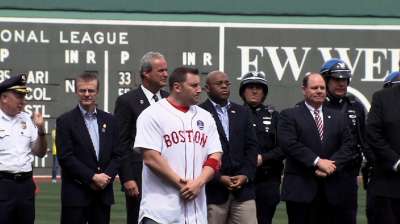 BOSTON -- Though the Red Sox have been known for their chemistry all season long, manager John Farrell thinks it was taken to another level the day after the tragic Boston Marathon bombings.
When the Red Sox and Indians lined up along the baselines for a moment of silence on April 16 in Cleveland, Farrell could feel the way the event had galvanized his players.
"The one moment that stands out in my mind is standing on the [baseline] during the moment of silence in Cleveland following the bombing here," said Farrell. "And it wasn't so much about on field performance. We had gotten off to a good start the first two, three weeks of the season. We saw some things come out of the individuals.
"But it spoke to their understanding that they were in a special place and showed some character at a very difficult and unique time. Whether that was the galvanizing moment for this team, I can't say that. But it was a moment in time where guys showed a different side of them that this was a special group. What the performance was going to be, the total number of wins achieved, we didn't know. But there was a characteristic that showed through in that moment that was special."
As a reminder of April 15, and the impact on the community, Red Sox groundskeeper Dave Mellor mowed a huge round patch in the middle of center field that says "B STRONG" on it in preparation for Friday's Game 1 of the American League Division Series against the Rays or Indians, at 3 p.m. ET on TBS..
It was Jonny Gomes and Jarrod Saltalamacchia who helped hatch the idea for the "Boston 617 Strong" uniform that has been in the dugout all season.
"You obviously play for your manager, you play for the identity of the team, and of course you play for the city that you represent," said Gomes. "You represent the Red Sox, you represent Boston. That being said, there are professionals inside here -- guys with huge hearts and heavy bats who are going to take that load. But I don't think it's our win-loss record that determines that Boston Strong that was built. I think it was almost kind of like a lifestyle, how to go about things. Fortunately for us, we're continuing to represent that."
Ian Browne is a reporter for MLB.com. Read his blog, Brownie Points, and follow him on Twitter @IanMBrowne. This story was not subject to the approval of Major League Baseball or its clubs.