Braves may leave Uggla off NLDS roster
Braves may leave Uggla off NLDS roster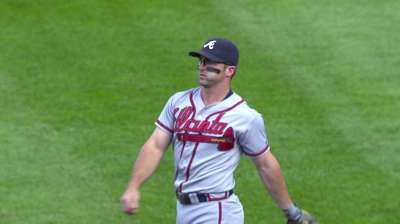 ATLANTA -- When the Braves announce their National League Division Series roster on Wednesday, there is a distinct possibility Dan Uggla will not be included.
Braves manager Fredi Gonzalez met with some players regarding roster decisions after the team held a workout that was closed to the media on Tuesday at Turner Field. An industry source said Uggla was informed that he will not be part of the 25-man roster the Braves will use during their best-of-five NLDS matchup against the Dodgers.
Before making anything official on Wednesday, the Braves will first evaluate the health of some of their players. Outfielder Jordan Schafer has been battling an illness over the past few days. There will also be a need to assess right-handed reliever Jordan Walden, who has been ineffective in three of the four appearances he has made since missing three weeks with a strained groin.
If Uggla is indeed left off the roster, there is a chance the Braves could go with a 12-man pitching staff, which could provide some insurance in the event that Walden's struggles continue.
Uggla has batted .179 with 22 home runs and a .671 OPS in 136 games this season. The veteran second baseman has batted .133 with one home run and a .508 OPS in the 77 plate appearances he has compiled while playing 24 games since undergoing LASIK surgery to repair his vision in August.
As the regular season's final weeks unfolded, it became apparent that Elliot Johnson would serve as Atlanta's starting second baseman when the postseason began. But there has been some thought there might still be a bench spot for Uggla, who drew a team-high $13 million salary this season.
Mark Bowman is a reporter for MLB.com. Read his blog, Bowman's Blog, and follow her on Twitter @mlbbowman. This story was not subject to the approval of Major League Baseball or its clubs.