Comeback finalist Liriano rewards Bucs' faith
Comeback finalist Liriano rewards Bucs' faith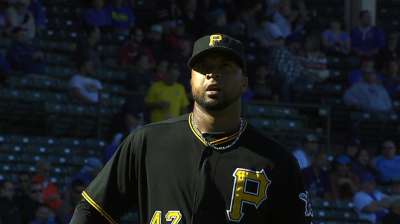 Francisco Liriano has come a long way.
The left-hander went from a 6-12 record with a 5.34 ERA with the Twins and White Sox in 2012 to being named the Pirates' starter for Tuesday's National League Wild Card Game (at 8:07 p.m. ET on TBS) -- the first postseason game to be held in Pittsburgh in 21 years.
Liriano is also a finalist for the NL Comeback Player of the Year Award. He's no stranger to the honor, having won the American League award in 2010 with Minnesota.
Liriano's resurgence has been dramatic. On the verge of signing a two-year, $12.75 million contract with Pittsburgh in the offseason, he fractured his non-pitching arm when he banged his arm on a door in his house attempting to startle his children on Christmas Day. He agreed to a modified contract of $1 million with performance incentives that could get him back to the original figure.
The Pirates had faith in Liriano, and he delivered this season, going 16-8 with a 3.02 ERA in 26 starts after joining the big league club in May. He played a big role in Pittsburgh reaching the playoffs for the first time since 1992, and if the Pirates are to advance beyond the NL Wild Card Game, he'll need to play a big role Tuesday night.
Bucs manager Clint Hurdle said Liriano has been a different pitcher in 2013, focused more on getting hitters out using his defense and not trying to overpower them by way of the strikeout, though he did notch 163 strikeouts in 161 innings.
"He's just been in a very consistent place, repeating his delivery," Hurdle said. "You see really good hitters chasing balls they normally might not chase. When he does get runners on base, he's a completely different pitcher than he used to be. [Before], he tried to make them disappear by striking everybody out, overpowering people.
"Now it's about staying focused, calming himself down and staying in rhythm for the defense. That's the biggest change he's been able to make."
Liriano said that another key to his success this season has been not dwelling on bad outings.
"If I had a bad start, I was thinking about that," Liriano said. "I wouldn't even get much sleep in. Now, I try to forget about it and move forward. What's done is done. There's nothing I can do about it. So I try to put it behind me and move forward."
Hurdle added that experience, such as Liriano's eight seasons in the Majors, can bring about that change in mentality.
"It can come with just experience and maturity," Hurdle said. "The way [Liriano] has fallen into the same traps, found some solutions and hung tough regardless of what the results were and fight through. No doubt the defense and bullpen behind him give him comfort as well."
With his performance in 2013, Liriano turned in his best campaign since his first full season in the Majors (2006), when he went 12-3 with a 2.16 ERA for the Twins.
Hurdle said the transformation he saw in Liriano this season, as well as the Pirates' determination to sign him despite the arm injury, are nothing short of amazing.
"The continuing determination to get a deal done, then for it to play out on the field the way it has, and the determination [Liriano] showed through the rehab and comeback stages … it's a magical story," Hurdle said.
Manny Randhawa is an associate reporter for MLB.com. This story was not subject to the approval of Major League Baseball or its clubs.