After 19 games, Reds more than familiar with Bucs
After 19 games, Reds more than familiar with Bucs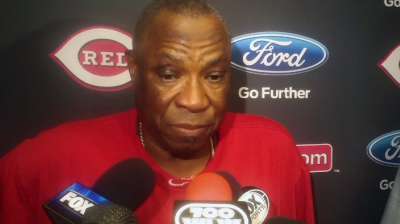 PITTSBURGH -- The Reds should have no problem recognizing the Pirates on the field during Tuesday's National League Wild Card showdown. The two NL Central division rivals met 19 times in the regular season, including six of the final nine games. Pittsburgh swept the final three games of the season at Great American Ball Park.
Cincinnati went 8-11 in the season series, including 4-5 at PNC Park. Two of the wins came in the series played Sept. 20-22. While everything starts over, records-wise, the scouting information remains relevant.
"We know them and they know us," manager Dusty Baker said. "If we get by this series, we're even more familiar with the next team we're playing [the Cardinals]. I kind of like being familiar with the opposition. It means you have an idea of what they're going to do to you and an idea of what you have to do to them. The hardest part of this game is when you don't know somebody. How do you make a game plan for somebody you don't know? That's a very difficult thing to do."
Mark Sheldon is a reporter for MLB.com. Read his blog, Mark My Word, and follow him on Twitter @m_sheldon. This story was not subject to the approval of Major League Baseball or its clubs.