Latos dealing with bone spur in right elbow
Latos dealing with bone spur in right elbow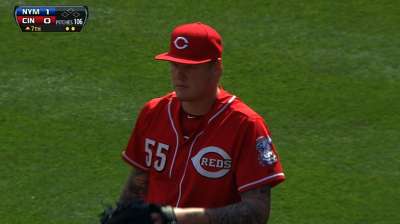 PITTSBURGH -- The arm soreness that Reds starting pitcher Mat Latos has been experience is because of a bone spur in his right elbow, it was learned on Monday.
An X-ray taken recently revealed the injury. Latos was originally slated to start Tuesday's National League Wild Card Game vs. the Pirates. That start is now going to ace Johnny Cueto.
"We've done exit physicals the last few days just to make sure we got a good jump on everybody," Reds head trainer Paul Lessard explained. "His elbow was sore, so we took some films right there."
The Reds are still optimistic that Latos could take the ball and start Game 1 of the NL Division Series on Thursday vs. the Cardinals, if the Reds defeat the Pirates first.
"He should be ready for the next round," general manager Walt Jocketty said.
Lessard believed that Latos could pitch without doing more damage to his elbow. At some point, it's possible he might need surgery to remove the spur after the season.
"It doesn't necessarily have to come out. We would worry if it hinders his range of motion," Lessard said.
Latos was 14-7 with a 3.16 ERA in 32 starts and 210 2/3 innings. Since the Reds announced the switch to Cueto for Tuesday, he has not spoken to reporters.
"I decline to comment about anything," Latos said after Monday's workout.
Mark Sheldon is a reporter for MLB.com. Read his blog, Mark My Word, and follow him on Twitter @m_sheldon. This story was not subject to the approval of Major League Baseball or its clubs.