Reds will wait until Tuesday morning to set roster
Reds will wait until Tuesday morning to set roster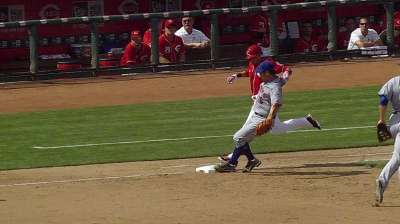 PITTSBURGH -- The Reds declined to set or announce a 25-man roster on Monday ahead of Tuesday's National League Wild Card Game vs. the Pirates. The roster does not have to be turned in until Tuesday morning.
"We've discussed it," manager Dusty Baker said. "We have to finalize it, naturally. We have to see how a couple of guys come out today in practice. There are a couple of guys kind of hurting."
General manager Walt Jocketty didn't expect much tinkering to be done in the final hours. Teams are permitted to change the roster between the Wild Card and Division Series rounds.
"We've got a pretty good idea," Jocketty said. "We'll just wait until the morning until we have to submit and make sure nothing happens during the night, nobody gets sick or whatever."
Jocketty declined to say whether rookie and top prospect Billy Hamilton would be included on the roster. It would be a shock if Hamilton wasn't added. His speed enabled him to steal 13 bases in 14 attempts and score two game-winning runs, a go-ahead run in extra innings and a game-tying run.
Hamilton, who was called up from Triple-A Louisville on Sept. 3, was looking forward to experiencing the postseason for the first time.
"Right now, I'm as calm as I can be and relaxed," Hamilton said. "The guys that have been in the postseason before told me it's going to be crazy tomorrow. I'm looking forward to seeing what happens. Hopefully I'm out there with them."
Hamilton, who would likely be utilized mainly as a pinch-runner for the late innings, hopes he can make a game-changing steal or score.
"I really want that to happen. I visualize it, the Dave Roberts situation [in the 2004 playoffs for the Red Sox]," he said. "If I can make that play, that would be pretty good. It would be awesome to see."
Mark Sheldon is a reporter for MLB.com. Read his blog, Mark My Word, and follow him on Twitter @m_sheldon. This story was not subject to the approval of Major League Baseball or its clubs.