Masterson may be candidate for closer's role
Masterson may be candidate for closer's role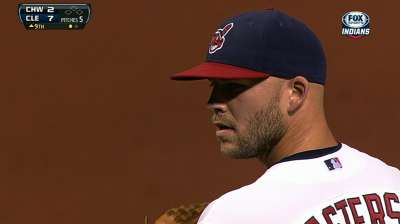 CLEVELAND -- The Indians enter Wednesday's American League Wild Card Game at Progressive Field without a defined closer. Staff leader Justin Masterson is considered to be capable of pitching only as a reliever at this time. As such, a decision to put Masterson in charge of the ninth inning seems like a logical move, though one Cleveland is not yet comfortable making.
On Monday, hours before the Rangers hosted the Rays for the right to face the Tribe, manager Terry Francona was asked how he will handle the unresolved closer situation.
"We're not there yet," said Francona, whose Indians will host the Wild Card Game on Wednesday at 8:07 ET on TBS. "We'll see how things go."
Francona's club went with a closer by committee after Thursday, when former closer Chris Perez gave up four ninth-inning runs in an eventual 6-5 win and was subsequently removed from his traditional role. Matt Albers pitched the ninth on Friday, Joe Smith followed suit on Saturday and Masterson threw the final frame of the regular season on Sunday. All those pitchers entered in non-save situations, including Perez, who compiled a 7.52 ERA while allowing opposing batters to hit .345 in his last 21 games, dating to Aug. 3.
Masterson, who sustained a left oblique strain on Sept. 2, made three relief appearances during the final week of the regular season. He surrendered just one hit across 3 2/3 scoreless innings, with seven strikeouts, one walk and one hit batter.
Because of his injury, Masterson is not stretched out enough to start. The team suspects he could return to the rotation during the latter stages of the American League Division Series, if the Indians win on Wednesday and move on to play Boston.
"We went from losing our best pitcher to probably being the only team left in baseball that could have a guy finish the game potentially throwing three innings," Francona said. "That's quite a weapon. We plan to use it. That's kind of the way we've played all year. Somebody picks somebody else up at a different time. We may not do it in a conventional style, but that doesn't mean we can't do it."
An All-Star this season, Masterson led the Indians with 195 strikeouts and 193 innings. He was also the only Tribe pitcher to record a shutout, of which he had three. The right-hander finished 14-10 with a 3.45 ERA.
If and when Masterson's stamina reaches prior levels during October, the Indians could decide to keep him in the bullpen. Right now, inserting him into the rotation is not even an option.
"Some of it probably depends on how stretched out he gets," Francona said. "He's a good pitcher, so I'm not as worried about what his role going forward is. I just like the idea that he's a really good pitcher and we plan to use him."
Mark Emery is an associate reporter for MLB.com. This story was not subject to the approval of Major League Baseball or its clubs.