Despite sore left leg, Phillips expects to play Tuesday
Despite sore left leg, Phillips expects to play Tuesday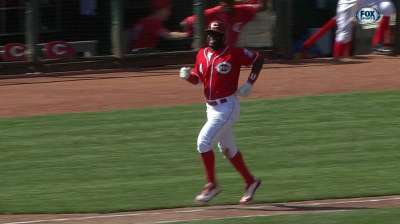 PITTSBURGH -- The wrap remained around Reds second baseman Brandon Phillips' left shin on Monday. The limp? At least that was gone.
Phillips was still smarting some after he fouled a ball off of his leg on in the fifth inning of Saturday's game vs. the Pirates. He exited for a pinch-runner after hitting a single in the at-bat and was given the day off on Sunday.
"I'm moving around all right," Phillips said during the Reds' workout at PNC Park on Monday. "When you've got a crucial game that's going on, your injury is going to be the last thing you worry about. I've been playing hurt all year since I got hit in the forearm [June 1]. I'm going to get an MRI on that after the season. You want to be on the field, regardless. There's no excuses, there's no nothing. You want to perform and be there for your team."
Manager Dusty Baker expected Phillips to start against Pittsburgh in Tuesday's do-or-die National League Wild Card Game.
"I saw him yesterday. I told him he wasn't limping, he was pimping. ... Not literally," Baker said.
Said Phillips: "He's got to get it right. I'm always pimping. I'm pimping with the limp, too. It doesn't matter."
Phillips, who batted .261 with 18 home runs and was second on the club with 103 RBIs, isn't the only player that's playing a little banged up after a long season of 162 games.
"Everybody is hurting this time of year," Baker said. "It's just a matter of how hurt you are. If you're not playing a little hurt, you didn't play very much. Those are the only guys going home in the winter time not hurting.
"If you played any kind of way, there are some bones, some ligaments, some muscles and stuff left out on that field. If they go and dig up that field, you could make about eight people out of it."
Mark Sheldon is a reporter for MLB.com. Read his blog, Mark My Word, and follow him on Twitter @m_sheldon. This story was not subject to the approval of Major League Baseball or its clubs.