Rangers run out of steam in tiebreaker loss to Rays
Rangers run out of steam in tiebreaker loss to Rays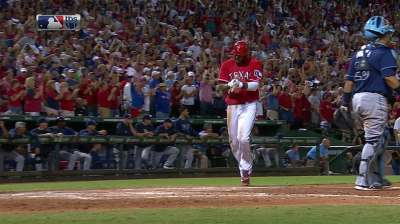 ARLINGTON -- The Rangers' extraordinary final week is over and so is their season.
For the first time in four years, the Rangers are not going to be advancing to the American League playoffs. Instead they'll be sitting home and watching after their seven-game winning streak came to an end with a 5-2 loss to the Rays in Monday night's tiebreaker at the Ballpark in Arlington.
The Rays advance to the Wild Card Game and face the Indians on Wednesday night in Cleveland. The Rangers are done despite winning 91 games, the fifth most in club history.
"It has been a lot of fun," second baseman Ian Kinsler said. "It came down to the end and we had to win nine straight games and we got stuck at seven."
"What is there left to say?" catcher A.J. Pierzynski said. "We did everything we could do. I'm very proud of everybody in this clubhouse and what we did, how we went about our business, how hard we played and how we fought through adversity. We came up short. It stinks, it's not fun but we're grown men. We had our opportunities tonight and didn't cash in, and they did."
When it was over, manager Ron Washington spoke to his team for a few minutes in the Rangers' clubhouse.
"I'm disappointed we didn't get it done," Washington said. "We made a run at it, we just didn't get it done. There are no excuses, we just didn't get it done. I don't think the season is a failure ... the failure is we're not in the playoffs."
"When you've locked your mind on making the playoffs and going to the World Series, what really can you think about?" third baseman Adrian Beltre said. "To me it's disappointing."
Nelson Cruz, playing in his first game since Aug. 4, was back in the Rangers' lineup at designated hitter but went 0-for-4 in the sixth spot. While he was struggling, the Rays' best power hitter was taking over the game.
Evan Longoria did most of the damage against the Rangers, going 3-for-4 with a home run. The Rangers also picked a bad time to struggle against Rays left-hander David Price, a pitcher they have beaten up in the past.
Price entered the game with a career record -- including the playoffs -- of 1-7 with a 6.62 ERA against them, including 0-3 with a 4.66 ERA in three postseason starts. This time he threw a complete game, holding the Rangers to two runs on seven hits and a walk while striking out four. He also picked off two baserunners despite not having a particularly good pickoff move even for a left-hander.
"He threw a lot of breaking pitches," shortstop Elvis Andrus said. "Before he used to throw a lot of fastballs to us, and that's why we always hit well. Today, we made adjustments, and he threw a ton of changeups and a ton of breaking balls to get ahead. He was locating the pitches pretty good, too."
Rangers starter Martin Perez couldn't match Price, mainly because he couldn't contain Longoria. Perez allowed three runs in 5 1/3 innnings, giving up one run right away in the first and a two-run home run to Longoria in the third that gave the Rays a 3-0 lead.
"I thought he did a good job," Washington said. "They jumped on him in the first inning, but he minimized the damage. It didn't seem like anybody could nullify Longoria."
The Rangers got one off of Price in the bottom of the third. Craig Gentry led off with a single, went to second on Leonys Martin's groundout and scored on a single by Kinsler. But then Price picked off Kinsler, who was thrown out at second for a caught stealing, and the rally died. Price also caught Andrus off first base in the first inning.
"That's what you have to put up with when you're aggressive," Washington said. "We're very aggressive and we weren't going to stop."
Perez left after striking out Ben Zobrist to lead off the sixth inning. Alexi Ogando took over trying to ease the Rangers' overworked bullpen, but he gave up doubles to Longoria and David DeJesus to make it 4-1.
The Rangers added a run in the bottom of the sixth when Andrus singled with one out, stole second and scored on a double by Alex Rios. But Beltre grounded out and Pierzynski grounded back to the pitcher to strand Rios. The Rangers were 2-for-9 with runners in scoring position on the night, wasting a one-out double by Kinsler in the eighth as well. The Rays added an unearned run in the ninth.
"We fought very hard," Rios said. "As of right now, we just have to be honest [with] ourselves and know that we gave it our all and fought to the end. It didn't work out, but it is what it is."
T.R. Sullivan is a reporter for MLB.com. Read his blog, Postcards from Elysian Fields, and follow him on Twitter @Sullivan_Ranger. This story was not subject to the approval of Major League Baseball or its clubs.