Jennings returns to lineup for tiebreaker
Jennings returns to lineup for tiebreaker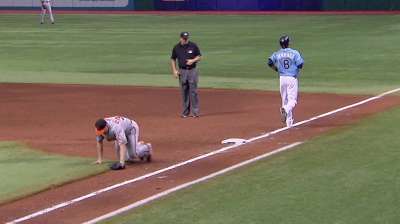 ARLINGTON -- Desmond Jennings was not going to let the lingering tightness in his left hamstring keep him out for another one of these do-or-die games. On Monday, for the American League tiebreaker showdown at Rangers Ballpark, the 26-year-old outfielder was in the lineup for the first time in eight days, leading off and playing center field.
Asked pregame to put a percentage on his health, Jennings said, "I don't know, 100," but that was obviously not true. He did some sprints pregame and said the hamstring "feels good enough for me to play," but he clearly couldn't run full speed in the Rays' eventual 5-2 win. That was evident on the very first pitch, when Jennings -- 1-for-3 with a walk before getting replaced for defense in the seventh -- hit a broken-bat liner down the left-field line and was easily thrown out trying to stretch it to a double.
"I'm not going to limit myself," he said pregame. "I'm going to go out and play, and whatever happens, happens."
Jennings had been out of manager Joe Maddon's lineup since exiting the Sept. 22 game against the Orioles in the sixth inning, relegated to two plate appearances as a pinch-hitter while the Rays deployed the left-handed-hitting David DeJesus in his place.
"Yesterday, he started talking pretty good, so I thought there might be a chance," Maddon said. "I didn't really know. He came out today at 3 o'clock, went through a battery of tests with [trainer] Ron Porterfield and [bench coach] Davey Martinez, and he came through really well. He gave the thumbs-up, he wanted to go. So we're going to try it."
The right-handed-hitting Jennings, who had never faced Rangers rookie lefty Martin Perez, entered with a .252/.333/.414 slash line in 138 games, with 14 homers, 54 RBIs and 20 stolen bases.
And he had grown tired of sitting around.
"It's the last game of the year," Jennings said, before catching himself. "It could be, could not be, but if something happens, you have all offseason for it to fully heal back up. I don't want to miss this game. You play a whole season, and for it to come down to the last weekend and you miss the last week of the season, it [stinks]. I went out and did some stuff today and felt fine."
Alden Gonzalez is a reporter for MLB.com. Read his blog, Gonzo and "The Show", and follow him on Twitter @Alden_Gonzalez. This story was not subject to the approval of Major League Baseball or its clubs.