Blanco, Crawford leave finale early with injuries
Blanco, Crawford leave finale early with injuries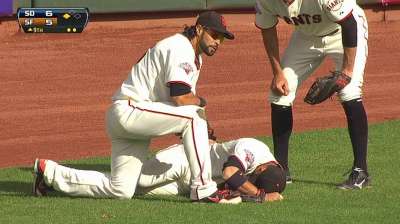 SAN FRANCISCO -- Plagued by injuries all season, the Giants were forced to remove two more players from Sunday's season finale against the San Diego Padres as outfielder Gregor Blanco sprained his right ankle and shortstop Brandon Crawford pulled a muscle in his right side.
X-rays taken of Blanco's ankle showed no fracture. He's expected to undergo an MRI on Monday to determine the injury's extent.
Blanco, 29, was hurt when he and center fielder Angel Pagan collided as they pursued pinch-hitter Will Venable's ninth-inning drive to left-center field. Though their collision wasn't head-on, Blanco received the worst of it as Pagan dove to try to avoid contact and inadvertently administered Blanco the equivalent of a cross-body block. Blanco tumbled over Pagan and remained on the grass for several minutes until he rose and was helped off the field by members of the athletic training staff who flanked him.
Crawford said he felt a tightening sensation in his oblique during his initial at-bat in the second inning of the 7-6 victory over the Padres. The feeling grew more extreme on the first swing of his second at-bat in the fourth inning. Ehire Adrianza replaced Crawford one inning later.
Crawford, 26, said he's scheduled for an MRI on Tuesday.
"I've got plenty of time to rest it," he said jokingly.
Chris Haft is a reporter for MLB.com. This story was not subject to the approval of Major League Baseball or its clubs.