Walk-off win caps Giants' season-ending surge
Walk-off win caps Giants' season-ending surge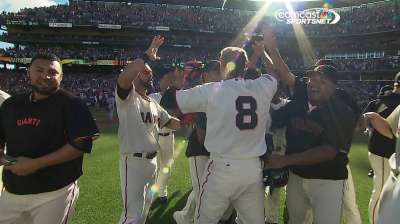 SAN FRANCISCO -- Taking a cue from a city known for its breathtaking bridges, the Giants hope that they've built a span between the end of this season and the 2014 campaign.
Sure, they tumbled from their World Series championship throne. Yes, their streak of four consecutive winning seasons dissolved. But they believe they have positioned themselves to thrive next year, with Sunday's season-ending 7-6 victory over the San Diego Padres serving as an example.
Hunter Pence, who stormed through September and was rewarded with a five-year, $90 million contract extension, sealed the Giants' two-run rally in the ninth inning with a bases-loaded single.
Pence's hit, combined with rookie outfielder Francisco Peguero's first Major League home run that led off the ninth, forged the Giants' 12th walk-off victory. The comeback also sealed a strong finish by the Giants, who won 10 of their last 15 games. Their 20-14 record since Aug. 24 was the National League's third-best.
"One of our big goals when things were bad was to dig deeper and find a way to get momentum going into the offseason," Pence said. "I think we did that."
Emotions ran high on this sunny afternoon at AT&T Park.
"It felt like a playoff game," Giants manager Bruce Bochy said.
Fans and participants alike were treated to the sight of Bryan Stow, the Giants fan who was brutally beaten in the Dodger Stadium parking lot after the 2011 season opener. Sitting in a private box, Stow was briefly shown on the scoreboard's video screen in the middle of the second inning, prompting robust cheering from the audience.
"What a feel-good story to have him here," Bochy said. "We all were excited to see him."
The crowd's reaction was even more lively when Barry Zito entered the game for his final appearance as a Giant and perhaps the last game of his Major League career. Zito responded by striking out the only batter he faced, Mark Kotsay, which prompted a thunderous ovation and raised the excitement level at the ballpark.
"Zito really picked us up," Pence said. "That was a special moment, him coming out. You could tell he was excited about it. When he came out, it was powerful. He got the out, gave us the chance to get it close and find a way to win."
Cheered enthusiastically all day by fans who felt thrilled to know that he'll remain in San Francisco, Pence also did what he could to keep the Giants competitive. After San Diego jumped ahead, 6-2, on Jedd Gyorko's fifth-inning grand slam, Brandon Belt hit his second RBI double of the game in the bottom of the inning. Pence stepped forward in the seventh with a two-out, bases-loaded, two-run single that narrowed the difference to 6-5.
Then came the ninth, which Peguero instantly transformed by lining a 1-2 slider from Padres closer Huston Street into the left-center-field seats. That dealt Street only his second blown save in 35 chances.
Peguero was on the bench until left fielder Gregor Blanco injured his right ankle in pursuit of Will Venable's eighth-inning triple.
"Sensational," Peguero said of his milestone hit. "I wanted to do something to help my team."
Tony Abreu singled to right-center field and advanced on a wild pitch before Belt walked. With Buster Posey batting, Padres catcher Nick Hundley inadvertently kicked away a pitch in the dirt for a passed ball, sending Abreu to third base. That prompted an intentional walk to Posey that loaded the bases.
With the Padres employing a five-man infield -- center fielder Reymond Fuentes was pulled in -- Pence smacked a 3-2 pitch to the vacated area in center to record his 99th RBI, including 32 this month, and score Abreu.
Pence described himself as fortified despite the dizzying events surrounding the conclusion of his contract talks -- or because of them.
"Obviously, every game I try to give everything I have. But it's like a positive feeling within," Pence said. "They believe in me and I'm going to show them why."
Chris Haft is a reporter for MLB.com. This story was not subject to the approval of Major League Baseball or its clubs.