Padres can't hold on after Gyorko's grand slam
Padres can't hold on after Gyorko's grand slam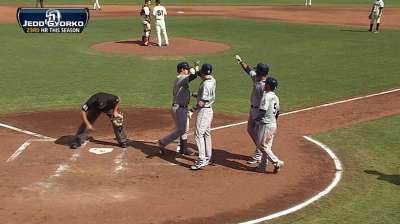 SAN FRANCISCO -- Rookie Jedd Gyorko finished off a brilliant season with his first career grand slam, which gave the San Diego Padres the lead in an eventual 7-6 loss to the San Francisco Giants on Sunday in the season finale at AT&T Park.
Huston Street (2-5) blew the save, just his second blown save in 35 chances.
"That's a tough one, whether it's April, May, June, July, August or September," Padres manager Bud Black said. "Huston has been so reliable for us the past couple of years and it just goes to show that players are not invincible."
Tyson Ross was left with a no-decision and finished the season 0-3 in his last nine starts. He pitched six innings, allowing three runs on seven hits while walking one and striking out seven.
"I was just happy to get a start out here where my friends and family can come out and watch a little bit," said Ross, who is from Oakland and attended Cal. "I just wanted to finish the year strong."
Mark Kotsay went hitless in his final game as a Major League player but received a hug from Black and his teammates after he left the game in the eighth inning.
"He played hard all seven innings," Black said.
Nick Hundley also made some personal history, leading off the third with his 13th home run, a career high.
Gyorko finished with 23 home runs and 63 RBIs, the best season by a Padres rookie since Nate Colbert in 1969. He also became the first rookie second baseman to lead his team in RBIs since the stat became official in 1920. The 23 home runs are third best by a rookie second baseman in Major League history.
"It was exciting," Gyorko said. "You never want to lose like that but it's going to happen sometimes. Street has been really good all year. It was just one of those days. Now the fun starts; we build toward next year."
Gyorko was happiest with his defense.
"There was a lot of questions whether I could handle second base," Gyorko said. "No one had seen me play second base until Spring Training. I'm pretty happy with the year I had. There's obviously room for improvement."
Tommy Medica, who has come all the way back from a devastating injury to reach the Majors for the first time, added an RBI double.
"He was pretty well thought of at Santa Clara," Black said. "Then he had that shoulder injury his junior year that set him back."
Medica, a top catching prospect out of high school, led the West Coast Conference in hitting his freshman season. He torn the labrum in his right shoulder and needed two surgeries to repair it.
He could only serve as designated hitter until a year or so ago, when he was moved to first base. Medica will likely work as an outfielder, first baseman and emergency catcher as his Major League career develops.
"We still drafted him because of his bat," Black said. "We saw something in him that kept him going and things came together for him."
The Padres (76-86) finished tied for third in the National League West, 16 games behind the division-winning Los Angeles Dodgers.
Rick Eymer is a contributor to MLB.com. This story was not subject to the approval of Major League Baseball or its clubs.