Mariners go quietly to wrap up 2013 season
Mariners go quietly to wrap up 2013 season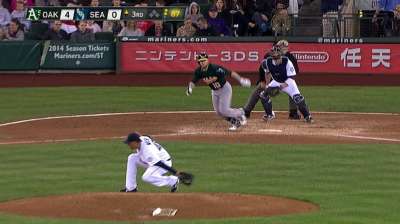 SEATTLE -- A difficult 2013 season mercifully came to an end Sunday for the Mariners, who closed out manager Eric Wedge's tenure with a 9-0 loss to the A's on a chilly afternoon at Safeco Field.
The loss concluded a 71-91 season for the Mariners, though they did go 11-8 against the American League West champion A's.
The A's head into the playoffs with a 96-66 record and will open the AL Division Series on Friday against the Tigers in Oakland. The Mariners head into an offseason search for a new manager as well as some additions to bolster a team that lost four more games than the previous year and hasn't been to the postseason since 2001.
But a young group of players -- including three rookie position starters in shortstop Brad Miller, catcher Mike Zunino and second baseman Nick Franklin -- gained a great deal of experience and will look to build on that going forward.
"It was a tough year for us and we obviously didn't do what we wanted to do," said third baseman Kyle Seager. "But there's a lot to get from this team. There's a good nucleus here, a good core to continue to work forward with and I think we can definitely feel good about going into next year."
Wedge, who announced Friday he won't be returning next season, finished his three-year managerial career in Seattle with a record of 213-273. The outgoing skipper held a closed-door meeting afterward to wish his team well in the future.
"I just told them how much I appreciated their effort, how much I care about them," Wedge said. "They're the toughest part about leaving. That's the sad part of it. Their effort, their work, their preparation, it's just a given."
A season filled with close contests -- and a 19-29 record in one-run games -- ended with a blowout loss, however. Right-hander Erasmo Ramirez didn't last long in his final start of an abbreviated season, giving up four runs on three hits with four walks in just 1 1/3 innings before being replaced by Hector Noesi.
Ramirez had come out of his previous start in Anaheim in the seventh inning on Sept. 20 after feeling some tightness in his right groin muscle, but he said he felt fine physically in his finale. His bread-and-butter command, however, was nowhere to be seen.
"All I can say is I just lost my timing," Ramirez said. "Everything, fastball, breaking ball -- everything. I just felt lost. I don't know why today my timing and mechanics were off. My body and arm weren't on the same page. But even with that, I had to figure it out and I didn't."
The 23-year-old grinded through a 39-pitch first inning during which he gave up a double and two walks, but he struck out the side, including a bases-loaded whiff by Josh Reddick to escape with no runs.
But the wildness continued in the second as Ramirez walked the first two batters he faced, then gave up a two-run single to Chris Young and an RBI double to Seth Smith before Wedge pulled the plug.
"When I started throwing strikes it was late, a couple runners were on and hitters were just looking for that one pitch," Ramirez said. "It's part of the game. I just have to be ready for that and how to get out of trouble and not just believe in my fastball. I have to believe in everything. All I can say is it was a bad day and now the season is over."
The loss dropped Ramirez to 5-3 with a 4.98 ERA in 14 games after the young right-hander missed the first three months with a sore elbow.
Noesi, pitching for the first time in 18 days, threw three innings and gave up four runs -- all in the fifth -- as the A's lead grew to 8-0. The long reliever concluded his season with a 6.59 ERA in 12 appearances after spending much of the year in Triple-A Tacoma.
Seattle's offense went quietly as well, shut out on five hits by six A's pitchers. Miller had two of the hits and finished his rookie season with a .265 average.
The Mariners didn't hit any home runs in their finale, but finished second in the Majors with 188 bombs, their most since hitting 198 in the team's first full year in Safeco Field in 2000. Only the Orioles hit homers more this season with 212.
Raul Ibanez went 0-for-4 and ended his season with 29 home runs, tied with Ted Williams for the most homers by a player age 40 or over. Williams hit 29 for the Red Sox in 1960, also at age 41.
Ibanez reiterated that he'd like to play another year if the circumstances are right. Whether that would be in Seattle or not remains to be seen, but he is another who sees good things on the horizon.
"I definitely have seen growth," Ibanez said. "We've played well together and had some really good moments during the season and won some really good series against some really good teams. It's just a matter of being consistent and I think that consistency will come here."
The Mariners finished with a .237 team batting average, a slight increase from last year's .234 mark and their highest since 2009. They scored 624 runs, five more than last season.
But pitching took a dip as the Mariners ended with a 4.31 ERA, a significant rise from last year's 3.76 and the highest mark since 4.73 in a 101-loss season in 2008.
Greg Johns is a reporter for MLB.com. Follow him on Twitter @GregJohnsMLB as well as his Mariners Musings blog. This story was not subject to the approval of Major League Baseball or its clubs.