Keppinger figures to be 100 percent by November
Keppinger figures to be 100 percent by November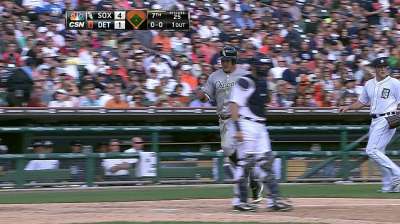 CHICAGO -- Jeff Keppinger figures to be 100 percent by November in his recovery from season-ending shoulder surgery on Thursday.
"It's a good timetable to get healthy and get my arm back strong," Keppinger said following Sunday's 4-1 loss to the Royals.
There was a little fraying of the rotator cuff and labrum found during the surgery, but Keppinger said it was nothing more than regular wear and tear. He said that the shoulder problem never hurt him swinging, but did affect him throwing during a disappointing debut season with the White Sox.
"I had what you'd call 'chronic tendinitis,'" Keppinger said. "I would have a shot that would calm it down, but without giving it the rest, it would keep coming back. I had an inflamed bursa sac that constantly kept coming back, so they went in there to clean it out and take care of it so it would work smoothly and not be a problem next year."
Scott Merkin is a reporter for MLB.com. Read his blog, Merk's Works, and follow him on Twitter @scottmerkin. This story was not subject to the approval of Major League Baseball or its clubs.