Pollock, Goldy carry D-backs out on high note
Pollock, Goldy carry D-backs out on high note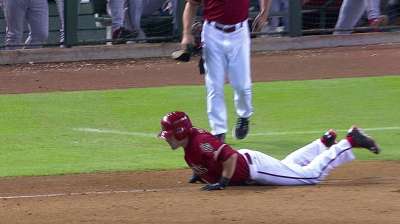 PHOENIX -- Although the season didn't pan out the way the club expected, the D-backs certainly had a flare for the dramatics in 2013.
As Arizona closed out its year at Chase Field on Sunday, it seemed only fitting that the team would go out in style.
Trailing by one in the eighth, the D-backs rallied for two runs on four hits, highlighted by A.J. Pollock's game-winning infield single, to down the Nationals, 3-2, giving the club its Major League-best 33rd win in its last at-bat to finish 81-81 for the second consecutive season.
Sunday's victory completed the longest season in baseball history, as Arizona played its 1,538th inning to surpass the 1964 Yankees (1,537 innings). To say the team was happy not to add to its record in the season finale would be an understatement.
"We didn't want to go to extra innings. That's been our thing all year," Pollock said, smiling. "It's pride to win this game. We had dragged the whole day, so it's nice to pull it together and scrape across some runs like we did."
After Willie Bloomquist struck out to lead off the eighth, Adam Eaton singled to put the tying run on base, before Paul Goldschmidt singled to extend his career-high hit streak to 19 games. Martin Prado then tied the game with an RBI hit to left, before Pollock delivered his heroics later in the frame with two out, diving headfirst into first.
Tony Campana came around to score the game-winning run moments after entering as a pinch-runner for Goldschmidt, who exited to chants of "MVP" from the stands. The slugger finished his breakout campaign leading the National League in RBIs (125), slugging (.551), on-base plus slugging (.952) and extra-base hits (75). He tied with the Pirates' Pedro Alvarez for tops in homers with 36.
As he has done all season, Goldschmidt deflected the attention postgame.
"It's been a good year, but there's a lot of learning to do as well," Goldschmidt said. "I'll try to keep getting better, and hopefully as a team, we can get to the playoffs next year."
After being shut out Saturday, the D-backs didn't waste any time getting on the board Sunday, scoring in the first inning on Goldschmidt's deep sacrifice fly to plate Bloomquist, who advanced to third following a leadoff single on a Nationals' throwing error.
Armed with an early cushion, D-backs starter Wade Miley held the Nationals scoreless through five innings, despite allowing at least one runner to get on base in every frame. In the sixth, however, the left-hander's defense let him down, as the first batter of the inning, Tyler Moore, reached on a throwing error by Prado. Moore then came around to score on Zach Walters' RBI triple, which was initially ruled an error by Gerardo Parra, who charged the ball in right field only to have it escape under his glove.
With the score tied at 1, Steve Lombardozzi put the Nationals on top, 2-1, with an RBI single to left later in the inning.
Miley returned in the seventh to finish off his nice outing with a clean frame, as the 26-year-old took a no-decision to end 2013 with a 10-10 record and a 3.55 ERA.
"It's always good to finish strong," Miley said. "Either way, you'll go into the offseason thinking about what you can do for next year and what you need to work on. We were above .500 for all year until last night, so you just have to reflect on it and then come back and build again."
Tyler Emerick is an associate reporter for MLB.com. This story was not subject to the approval of Major League Baseball or its clubs.